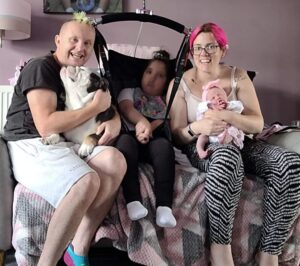 Skyler is home!
And what an incredible home it is.
It is with great pleasure that we can announce that Skyler, has found her special furever home with Kim Windsor, Ben and their little girl Lillie.
Skyler is settling in well and is loving getting to know her new home. She absolutely adores her all the attention she is getting and is already besties with her skin sister Lillie. The family are smitten.
So to the Windsor family, we wish you a happy furever home from all of us at Geordie Bullies and to our stunning Skyler, be a good girl and enjoy your new adventures! We cannot wait to see your posts!
We would like to take this opportunity to thank Adrian Widger, Marie and their little ladies for a fabulous foster we are so grateful.
A little of Skyler's story below,
Skyler is a 2-year-old entire bitch. We were contacted by a lady who was gifted Skyler for help. At just 2 years old Skyler had had 2 litters. After the second litter the vet informed the breeder, she should have no more so he gave her to the lady who contacted us. She had taken Skyler in but sadly was unable to keep her due to Skyler not getting on with her resident dogs. She needed help and therefore made the very difficult decision to gift Skyler to the charity to ensure her safety. The lady only had Skyler's best interests at heart.
Skyler is described by her foster family as a shy girl when she first meets you but then as her confidence and trust builds she is loving and chilled, she will make a wonderful addition to any family. She adores humans both large and small and is extremely gentle and loves attention and affection.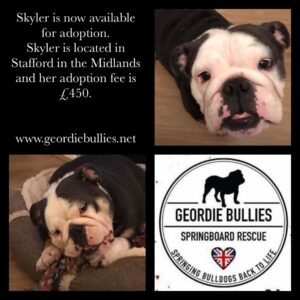 Dogs name: Skyler
Age: 2
Spayed/ Neutered: Yes
Can live with children: Yes
Age of children : Any
Can live with dogs: No   
Can live with cats: Untested
Current location: Stafford, Midlands
How far can the dog travel from current location: 4 hours
Things to be aware of:
Skyler came to us after being used as a breeding dog. She was rehomed with other dogs by the breeder before coming into rescue but she didn't get on with other dogs. For this reason we will be rehoming Skyler as an only dog in the home.
Because of Skylers previous use of being a breeding dog her undercarriage is still quite saggy. There is nothing medical to be done for this she just needs a good diet and exercise and it will reduce over time.   
Skyler has never been tested with cats so we are unsure of her reaction to them.
Skyler can be nervous of new things initially but she very quickly learns from a situation and realises there is nothing to be frightened of.
The ideal home: 
Skyler is an absolutely adorable girl and will make a superb addition to any household. She will thrive with a family, as she loves children too, who are around much of the day as she loves company. As with all bulldogs Skyler requires firm rules and boundaries to ensure her behaviour remains good.
As previously stipulated Skyler needs to be an only dog in the home due to her previous history.
Skyler can be rehomed with children of any age as she has proven to love children and is ever so gentle.
Other comments:
Skyler has been a pleasure in foster and will make a fantastic addition to any family household. Skyler sleeps in a bed in the kitchen in her foster home and does not require crating.
{"slide_to_show":"3","slide_to_scroll":"1","autoplay":"true","autoplay_speed":"3000","speed":"800","arrows":"true","dots":"false","loop":"true","centermode":"false"}