Stella is described by foster family a very relaxed beautiful girl. She absolutely adores people and loves a good bum scratch! When it comes to cuddles it does need to be on her own terms and it's a case of leaving her be until she comes to you.

Stella absolutely loves walks and wears a collar and lead. She walks well as part of a pack or on her own and she has excellent recall. She happily wanders along and never strays too far.

Stella is a clever girl and can sit, give a paw and speaks! She mostly speaks when you are taking too long with her dinner!!!

Stella is not a great toy fan and much prefers to relax and snooze! She can get a little excited and humpy sometimes but stops instantly when told no.

Stella loves her tail pocket cleaning but not such a fan of her facial routine but she will allow it without an issue.
Dogs name: Stella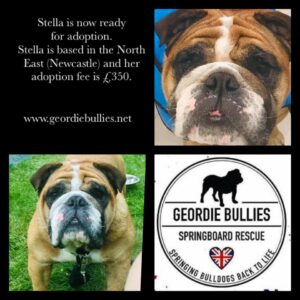 Age: 4
Can live with children: Yes


Can live with dogs: Yes

Can live with cats: untested in home but no reaction when seen them out.

Current location: North East (Newcastle)

Things to be aware of:

Stella hasn't lived with a dog in foster but she has had lots of visits from various furry friends and has never had any issue.
Stella has had issues with previous urine infections but was found to have a large kidney stone in foster, which was successfully removed. Stella will require a specialised food to reduce the risk of her kidney stones reoccurring.
She also had an eye and ear infection when she first arrived but these have cleared but she still needs ears cleaning and drops. Stella requires her tail pocket cleaning daily and her foster mum uses CLX wipes for this.
Stella sleeps in a crate overnight and can wet her bed. This can often be a bulldog problem and time and patience will be required ongoing for training.

The ideal home:

Stella is just a gorgeous girl and adores company. She would do well in a home with someone around a lot of the day and who loves to walk.
She is wonderful with children but is not a massive fan of louder noises so awareness is required.

Other comments:

Stella has been a complete sweetheart in foster. She is crate trained and used one overnight in foster.

Stella is not completely toilet trained and that will need time and patience. She travels well and we will consider a new home for her up to 4 hours from her current location in Newcastle upon Tyne.

If you have any questions, please ask Danielle Henry Marshall foster mum to Stella.

Stellas adoption fee is £350 and will need to be paid in full prior to going home which will also be subject to a home check.



?

?

 PLEASE READ CAREFULLY BEFORE APPLYING 

?

?



1. Have you read the adoption criteria in full? You must meet ALL dog's criteria.
2. COMPLETE APPLICATION form and pay your £5 subscription
3. PAYMENT REFERENCE must on the application form to cross reference.
4. PAYMENT METHOD : pay via PayPal www.paypal.me/gbspringboard or
Bank transfer Sort : 09.01.28 Acc : 92014344.



?

?

 UNLESS WE SEE PROOF YOU HAVE PAID; WE CANNOT PROCESS YOUR APPLICATION 

?

?

.

£5 per year allows you to apply for as many dogs as you wish should you not be suitable on your first Application.
To apply, please complete the application form below

https://www.cognitoforms.com/GeordieBulliesSpringboard1/adoptionapplication