Eve really is the most gorgeous girl who absolutely adores humans including all little people too. She absolutely loves cuddles, bum scratches and belly rubs!
Eve really enjoys her walks and she wears a harness with no issue. She can pull a little but listens well when given commands. She takes no notice of dogs on walks and has excellent recall.
Eve is not the fondest of being cleaned but loves a good old towel rub! She will move her head when you are trying to clean her face but she does allow with time and patience.
Eve can follow simple commands such as sit, paw and stay.
Eve really enjoys playing with toys and enjoys rough play with a pull toy.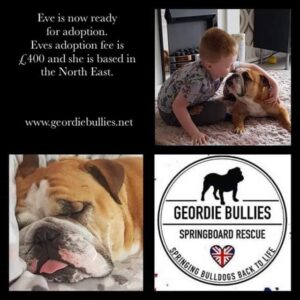 Dogs name: Eve
Age: 3

Can live with children: Yes of any age.

Can live with dogs: No

Can live with cats: Untested

Current location: North East (Newcastle)

Things to be aware of:

Eve does not enjoy the company of other dogs in the home and prefers her humans all to herself, for this reason she will need to be an only dog.

As previously mentioned Eve likes playing with toys but she is overly fond on balls and especially footballs!!! She can get over excited and of removed from her she will sit and bark at you!

Eve is not a fan of the hoover and large objects, these make her jump!
Initially on meeting people can be nervous but she soon settles.

The ideal home:

Eve would fit into most family homes and can live with children of any age. She will need to be an only dog in the home as she is not a fan of sharing her humans.
She has the most adorable personality and just loves attention and snuggles.

Other comments:

Eve has been an absolute pleasure in foster. She can be left for up to 4 hours in a day and has used a crate in foster.

Eve is toilet trained and travels well, we will consider a new home for her up to 4 hours from her current location in Newcastle Upon Tyne.

Eve is spayed.

If you have any questions, please ask Claire Anderson foster mum to Eve.

Eves adoption fee is £400 and will need to be paid in full prior to going home which will also be subject to a home check.



?

?

 PLEASE READ CAREFULLY BEFORE APPLYING 

?

?



1. Have you read the adoption criteria in full? You must meet ALL dog's criteria.
2. COMPLETE APPLICATION form and pay your £5 subscription
3. PAYMENT REFERENCE must on the application form to cross reference.
4. PAYMENT METHOD : pay via PayPal www.paypal.me/gbspringboard or
Bank transfer Sort : 09.01.28 Acc : 92014344.



?

?

 UNLESS WE SEE PROOF YOU HAVE PAID; WE CANNOT PROCESS YOUR APPLICATION 

?

?

.

£5 per year allows you to apply for as many dogs as you wish should you not be suitable on your first Application.
To apply, please complete the application form below

https://www.cognitoforms.com/GeordieBulliesSpringboard1/adoptionapplication