Treacle & Willow – Now Adopted
Willow and Treacle are both beautifully funny girls. They both have very different characters but are the perfect team. They absolutely love cuddles and kisses.

Treacle is definitely the leader of the pair and displays much more confidence. She absolutely loves toys and playing. She can however become a little possessive at times and if you remove the toy she likes to give chase and get it back!

Willow is not as confident as Treacle. She isn't as interested in toys but will play with Treacle sometimes.
Both girls love to walk and definitely walk better as a pair with Treacle taking the lead.

Both Willow and Treacle know a limited amount of commands and happily sit when food is involved!
Both girls happily have their cleaning routines carried out daily with no issues.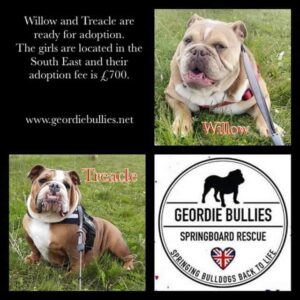 Dogs name: Willow and Treacle
Age: Both 4
Can live with children: yes 6 and over

Can live with dogs: No

Can live with cats: No

Current location: Peterborough
Things to be aware of:
Willow and Treacle love to walk together. They can become excited when they see other dogs while out and pull a little but are quickly corrected. They can also be over excited if they see bikes and scooters and try to give chase!
As previously mentioned Treacle can be possessive over toys and care needs to be taken when removing toys from her. Willow is not as playful as treacle but if she does get over excited she can get mouthy and sometimes nip. This requires continued training.
Both girls love food time! Willow can be a little food possessive but this is easily solved by separating them at feeding time.
Willow is not a great fan of the vacuum cleaner!
The ideal home:
These 2 gorgeous girls will make a fabulous addition to any home. They are so loving and adore human contact and kisses.
We feel the girls would be better homed as a pair with no other dogs in the home as Willow is not a fan of other dogs apart from Treacle!
Willow and Treacle can get over excited while playing so with this in mind we are rehoming them with children over 6 as they will have a better understanding of how to keep them calm when they are getting over excited and playful.
Other comments:
The girls have been a pleasure in foster. They can be left for up to 4 hours in a day but a family with someone around more of the day would suit them well. The girls have used a crate in foster and may chew if not crated.
Willow and Treacle are mostly toilet trained, Willow can wet if left too long alone. They travel better in crates, we will consider a new home for them up to 4 hours from their current location in Peterborough
Willow and Treacle are both spayed.
If you have any questions, please ask Sahra Joyce foster mum to Willow and Treacle
Willow and Treacle's adoption fee is £700 and will need to be paid in full prior to going home which will also be subject to a home check.
?? PLEASE READ CAREFULLY BEFORE APPLYING ??
1. Have you read the adoption criteria in full? You must meet ALL dog's criteria.
2. COMPLETE APPLICATION form and pay your £5 subscription
3. PAYMENT REFERENCE must on the application form to cross reference.
4. PAYMENT METHOD : pay via PayPal www.paypal.me/gbspringboard or
Bank transfer Sort : 09.01.28 Acc : 92014344.
?? UNLESS WE SEE PROOF YOU HAVE PAID; WE CANNOT PROCESS YOUR APPLICATION ??.
£5 per year allows you to apply for as many dogs as you wish should you not be suitable on your first Application.
To apply, please complete the application form below
https://www.cognitoforms.com/GeordieBulliesSpringboard1/adoptionapplication
{"slide_to_show":"3","slide_to_scroll":"1","autoplay":"true","autoplay_speed":"3000","speed":"800","arrows":"true","dots":"false","loop":"true","centermode":"false"}