Winston AKA Winnie – Now Adopted
Winston is a sweet boy who likes a fuss and to be around people but he can also be extremely naughty and doesn't like being told no!!! He needs a furever home where he will be given firm rules and boundaries otherwise he will be dominant and testing.
He is very playful and loves rough & tumble. He loves a good old game of tug of war with dog or human but  footballs are his favourite toy. 
He is very good on his lead and is happy around other dogs although he will let them know when he's had enough!
Winston has no food aggression and follows basic commands such as sit and paw. He can get excitable when playing rough, but he is a young boy still learning the boundaries.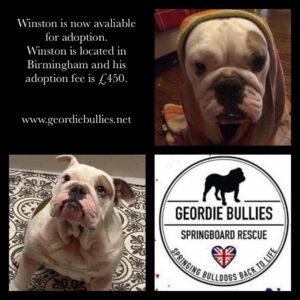 Dogs Name:  Winston aka Winnie
Age:  2 years old
Can live with children:  Yes – 6 plus
Can live with dogs:  Yes – Female laid back dog
Can live with cats:  Yes
Current location:  Birmingham
How far can the dog travel: 4 hours
Things to be Aware of: 
Winston came into foster with quite a few issues with his skin and his ears which we felt was down to food allergy. He is on Royal Canin Hypoallergenic dog food which MUST NOT CHANGE. He also needs to be strictly given no treats as this can affect his skin.
He has CLX wipes for his skin and ears and whilst he isn't keen on them, he tolerates them.
Its very important that Winston's skin care regime is continued and as such, experience of the Bulldog breed will be required because if his skin flares up he will need regular medicated baths and possibly medication.
The Ideal Family:
We think Winston would be very well suited to a family home where there is another laid female playful dog for company. He will be equally happy in a dog free home if there is a lot of interaction and where he will not be left for any length of time.
Winston will need firm rules and boundaries as he is still a young  boy and very much likes to get his own way! He can get over excited and nibble feet and this requires ongoing training. He must not be allowed on sofas and beds as this will only fuel his dominance and mean his behaviour deteriorates.
Winston loves the children in foster so we are happy for him to be rehomed to a family where children are 6 plus and dog savy as he is very playful and will jump up.
Winston has a crate in his foster home and he will happily take himself off for a nap when he wants some peace and quiet.
Other comments:
Winston has done very well since he came back  to us. He is  neutered and we are continuing with his skin regime which is working well for him… it is essential this is continued.
Winston is up to date with his vaccinations, is toilet trained and travels well in the car so we will consider a new home up to 4 hours from his current location and where he will be left for no more than 4 hours during the day. 
If you have any questions, please ask Heather Hew  foster mum to Winston
Winston's adoption fee is £450  and will need to be paid in full prior to him going home which will also be subject to a home check.
?? PLEASE READ CAREFULLY BEFORE APPLYING ??
Have you read the adoption criteria in full?  You must meet ALL dog's criteria.
2. COMPLETE APPLICATION form and pay your £5 subscription
3. PAYMENT REFERENCE must on the application form to cross reference. 
4. PAYMENT METHOD : pay via PayPal www.paypal.me/gbspringboard or
Bank transfer Sort : 09.01.28 Acc : 92014344. 
?? UNLESS WE SEE PROOF YOU HAVE PAID; WE CANNOT PROCESS YOUR APPLICATION ??. 
£5 per year allows you to apply for as many dogs as you wish should you not be suitable on your first Application.
To apply, please complete the application form below
https://www.cognitoforms.com/GeordieBulliesSpringboard1/adoptionapplication