Luna – Sadly crossed the Rainbow Bridge!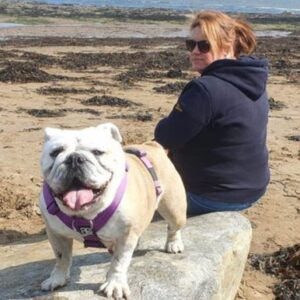 It is with the greatest sadness we bring you the devastating news that beautiful Luna gained her angel wings very suddenly!
Luna was enjoying a walk with her doggie friends at her favourite place when she suddenly collapsed. She was rushed to the vets but heartbreakingly she died in her mummy's arms.
Luna's family are devastated at the sudden loss of their baby girl. Lisa, Matt and family absolutely adored their little sassy pants and loved her beyond measure since adopting her nearly 2 years ago. They have been the most incredible forever family for Luna.
We are so sorry for your loss Thank you for giving her the best years of her life Lisa and Matt. Our hearts go out to you at this saddest of times. Please accept our sincere condolences  Fly high beautiful Luna and wait for your family at rainbow bridge.
Lisa's words about her adorable girl are below.
The tears are streaming as I write this post, yesterday our little sassy pants sausage went to the rainbow Bridge. It was very sudden and unexpected she collapsed while out walking with no warning, we were minutes away from the vets but she passed in my arms on the way there.
We are heart broken and she will be very dearly missed. The first picture I have added is what my son wrote to express how he felt about his best friend, and it says what we all thought perfectly. We love you, we miss you, our girl!
A little of Luna's story below,
Luna is a lovely little girl that has taken a good few weeks to come out of her shell.
She is set in her ways and has got her Deaf Ear well and truly switched on when it comes to commands such as sit and stay.
Luna is typically stubborn and likes to spend a good portion of her day snoozing, She has only just discovered 'toys' and is starting to show interest in playing.
As she isn't a huge fan of walking. She has been reluctant to stretch her legs but her foster mum has encouraged Luna and she is definitely getting better, but she is never going to be one for long walks as this interrupts the serious snooze time she likes to indulge herself in.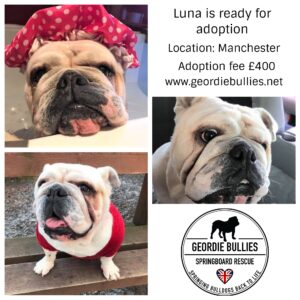 Dogs Name: Luna
Age: 4 years old
Can live with children: With quieter dog savvy children
Can live with dogs: No
Can live with cats: No
Current location: Manchester
Things to be Aware of:
Luna is walked on a lead and can sometimes lunge at unknown dogs when she first meets them. There is no aggression and once she knows the dog it stops, and she will have a bit of a play but not much, preferring to court attention from the other dog owners.
She also needs a daily a pamper to help with her tear stains and to keep her ears and folds clean which she isn't keen on. When Luna came into foster, she had Entropian in both eyes which had never been treated and because of this, she has developed terrible tear stains. She has had surgery to rectify the problem whilst she has been in foster but the hair is very badly stained and will only get better as the hair falls out and regrows.
 The Ideal Family:
Luna would be suited to a calm, not too active household, she is a submissive girl and will shake if she gets nervous.
Any children in the house would need to understand she likes sleeping A LOT so she would need her own space.
 Other comments:
Luna is starting to blossom in foster, it has taken a while so any new family will need to allow for Luna to adjust to her new home, but her spark has been ignited.
She has been fine around visiting children as young as 6 but this has been for relatively short periods.
Overall, Luna is toilet trained but has had the odd accident in the home as she doesn't bark to go out. Her new family will need to be mindful that she needs to be reminded to go outside to toilet.
Luna is spayed and is well recovered from this and her Entropion surgery so there is no further treatment required.
She travels well in the front of the car so we will consider a new home for this lovely girl up to 4 hours from her current location in Manchester.
If you have any questions, please ask Mandi Fae Brodick foster mum to Luna
Luna's adoption fee is £400 and will need to be paid in full prior to her going home which will also be subject to a home check.
?? PLEASE READ CAREFULLY BEFORE APPLYING ??
1. Have you read the adoption criteria in full?  You must meet ALL dog's criteria.
2. COMPLETE APPLICATION form and pay your £5 subscription
3. PAYMENT REFERENCE must on the application form to cross reference.
4. PAYMENT METHOD : pay via PayPal www.paypal.me/gbspringboard or
Bank transfer Sort : 09.01.28 Acc : 92014344.
?? UNLESS WE SEE PROOF YOU HAVE PAID; WE CANNOT PROCESS YOUR APPLICATION ??.
£5 per year allows you to apply for as many dogs as you wish should you not be suitable on your first Application.
To apply, please complete the application form below
https://www.cognitoforms.com/GeordieBulliesSpringboard1/adoptionapplication