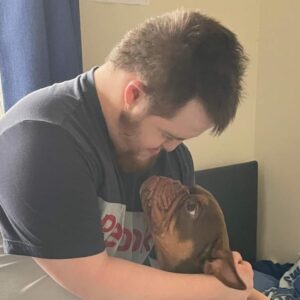 Zeke is home!
We are over the moon to announce that Zeke has gone home!
Zeke joined his new family Kelly and his new skin siblings Ellie and Adam and took no time at all getting stuck in with family life. He has already been investigating his new home and surroundings and even helping his mum with the dishes and he has been getting to know his new skin siblings whom he loves to play with and receives lots of kisses and cuddles from them!
So Zeke, enjoy your new life to the full and we are already looking forward to seeing all your new adventures.
We wish you a lifetime of happiness and heart-felt joy together.
Thank you so much to Zeke's foster mum Marie Mills on a fabulous 1st foster and for preparing Zeke for his new home. we are very grateful to you as always.
A little of Zeke's story below,
Zeke is a lovely young boy who like to be around people and enjoys the company of the children and resident dog in foster. He is still young and as such would benefit from further training, specifically he needs to understand he cant jump up at people.
He is playful and very good with the female lab in foster as well as meeting and greeting other dogs when outside.
Zeke loves his food and will eat fast to try and get to the other dog's food and he loves balls and squeaky toys…. And adores lots of cuddles and affection.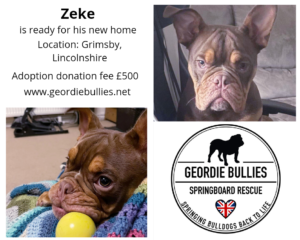 Dogs name: Zeke
Age:  7 months
Can live with children:  Yes
Can live with dogs: Yes – must be sterilised
Can live with cats:  Untested
Current location:  Grimsby, Lincolnshire
Things to be aware of: 
Zeke is being rehomed as entire so he CANNOT be rehomed with an unsterilised male or female dog. We will recall Zeke to be neutered once he has matured at around 18 months. Zeke will be sterilised at a vet of our choice and the charity will cover the cost of this.
Zeke needs a set toileting routine as he doesn't always let his foster mum know when he needs to go out.
At present Zeke is on a Raw diet. He will need to remain on this as he has suffered from allergies in the past. We can advise on this.
And like many English Bulldogs, Zeke hats the hoover and the mop.
The ideal home: 
Zeke has loved having a canine playmate in his foster home so we will happily rehome him with a sterilised, playful male or female dog who is used to having dogs in the home.
Children will need to be dog savvy as he will jump up and as he loves being around people, we will be looking a home where Zeke is not left for long periods.
Other comments: 
Zeke is an excitable and springy young boy who will jump up at people, this is being worked on but needs a continued effort from his new family.
Zeke has been a joy to have in foster and he will make an adorable addition to any loving family.
As he travels well on an empty stomach, we will consider a new home for this boy up to 4 hours from his current location
{"slide_to_show":"3","slide_to_scroll":"1","autoplay":"true","autoplay_speed":"3000","speed":"800","arrows":"true","dots":"false","loop":"true","centermode":"false"}