Franky AKA Tank – Now Adopted!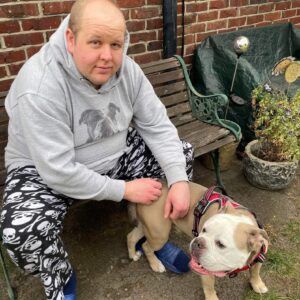 Franky is Home!
We are very pleased to announce Franky has a new home and a new name Tank!
Tank was collected by his new family Adrian and Maureen.
Tank has spent no time at all getting to know his new fur sister Lulu and exploring his new home and garden.
So please join us in congratulating Adrian, Maureen and Lulu on your gorgeous new addition
We wish you a lifetime of endless fun and happiness together and look forward to sharing the next chapter of your life with you!
Be happy beautiful boy xxx
Massive thank you to Franky's mum Wendy Deetlefs for preparing Franky for his forever home.  We know it hasn't been easy but you have been amazing, going above and beyond as always and we are forever grateful to you.
Franky is a fit and lively boy who is very outgoing and loves human company. He is well behaved and has a happy demeanour.
He loves going to for walks and has no problem meeting and greeting other dogs, he does however have a typical stubborn side and will only recall when he wants to be recalled..! for this reason Franky is walked on an extended lead.
Franky currently lives with 2 other dogs and does not show any toy possession or food aggression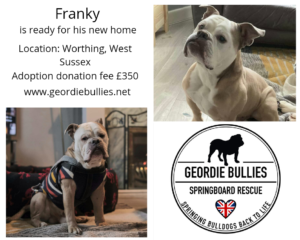 Dogs name: Franky – previously Tank
Age:  6 years
Can live with children:  Yes dog savvy children
Can live with dogs: Laid back female
Can live with cats:  No – and no other furries
Current location:  Worthing, West sussex
Things to be aware of: 
Franky didn't have the best start in life and as such he ducks if you got to pat his head and he gets anxious of you try to grab his collar.
The ideal home: 
Franky is an active dog and as such would be perfect in a home where is would be taken on plenty of walks and outings and included in family life. He can be bouncy and excitable, for that reason we prefer any children to be dog savvy with a bouncy dog and obviously any young children would need to be supervised.
Other comments: 
Frankly was found wandering the streets is a starved state and came to us after the obligatory 7 day stay in kennels. Wendy originally fostered Frankly before adopting him. It hasn't been easy as Franky hasn't taken to the resident male English Bulldog. Wendy has tried very hard but sadly it isn't working. Franky is fine with the female bulldog, and this is why we have stipulated a laid-back female, or he will happily be rehomed as an only dog.
He is a very happy and lovable boy and will make a lovey family companion.
Franky travels well and we will consider a new home for him up to 4 hours form his current location in Worthing.
Follow Tank https://www.facebook.com/geordiebullies/