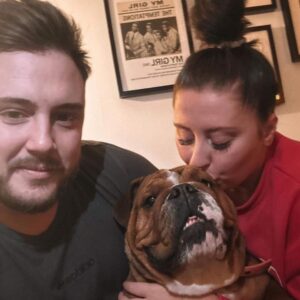 Some lovely news to report this morning!!
Our Beautiful girl Zola is home!!
Zola, now called Olive was picked up by her very excited mum and dad on Saturday and has settled in really well.
Emily and Jamie have fall head over heels for this gorgeous girl and who can blame them, she is absolutely beautiful!
We would like to say a massive thank you to Heather for another fantastic foster, you have been amazing preparing Olive for her forever home, and we are truly grateful.
So please all join us in congratulating Emily and Jamie on their beautiful new girl, we hope you have many happy years together.
To Olive, enjoy your happy ever after sweetheart, be a good girl and we look forward to seeing all the adventures you go on!!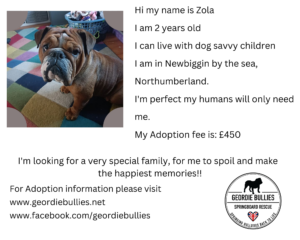 Dogs name:
Zola
Age:
2years old.
Current location:
Newbiggin by the sea, Northumberland.
I CAN LIVE WITH
Children:
Yes, Dog savvy children.
Cats:
No.
Dogs:
No.
A BIT ABOUT ME
Personality:
Zola is a sweet and timid young girl, with lots to learn.
She absolutely loves all attention and affection from her humans.
Zola is very young and puppy like, her confidence is growing, and her cheeky and sweet nature is shining through.
Behaviour:
She has had a very sheltered life and has found some of the big wide world intimidating.
It takes her time to learn to trust her humans, she is very reserved, and it will take her time to show the cheeky little girl we have the pleasure to know.
Zola does not understand rough play and can become overly excited, we advise structured play, such as ball, tug rope etc.
Needs:
Zola needs an active but calm family home.
A family that understands her needs and have the patience to train her and help her reach her full potential.
Zola needs to be dog free, due to her previous life as a breeding female Zola does not like to share her personal space with other animals.
Walk/exercise:
Zola really enjoys her walks, she starts off shy and slow, but soon enjoys taking in her environment around her.
She enjoys meeting unfamiliar dogs and people on her journey and is growing in confidence daily.
Toilet trained:
Zola is an ex-breeding female and is used to living in kennels. She will need a continued toileting routine.
Can be left:
Zola is crate trained so she will preferably have one in her new home, she settles well and can be left for up to 4 hours but may have accidents if left longer.
Travel:
Zola travels very well, she happily curls up and has a nap. Because of this we will accept applications up to 4 hours away from her current location.
Things to be aware of:
Zola was in season as she came to GBSR she will be rehomed on a "to be spayed" contract which will be undertaken at a vet of our choice with costs covered by the charity.
Any young children in the home must be supervised, as Zola is a big girl and has the potential to jump and knock children over.
Children must understand that bulldogs need time to settle in and have space to rest peacefully and uninterrupted.
Additional information:
Zola is a victim of back yard breeders, very slowly she is learning just how to be a family pet like she deserves. She is a beautiful natured little girl that you cannot help but fall in love with the moment you meet her and look into her beautiful brown eyes. Any family lucky enough to adopt her and be the biggest part of her happily ever after will truly be blessed.
Zola's adoption donation fee is £450 and will need to be paid in full prior to her going home which will also be subject to a home check.
**Every dog rehomed by GBSR receives Rescue Back-up for their whole Life. And the admin team are available for advice and support for the whole of that dog's lifetime via Messenger, therefore the successful applicant will need to have an active Facebook and Messenger account for the life of the dog. If you cannot agree to this, please don't apply**
🚨 PLEASE READ CAREFULLY BEFORE APPLYING 🚨
You MUST MEET ALL the dogs' criteria, have you read the adoption criteria in full?
COMPLETE APPLICATION FORM
PAY YOUR £5 SUBSCRIPTION – SEE NOTE BELOW*
PAYMENT REFERENCE must on the application form to cross reference. Mention if you have paid by PayPal or Bank Transfer if you are unable to provide a Transaction Number so we can check.
PAYMENT METHOD Via Enthuse using the link below.
https://geordiebullies.enthuse.com/donate
Note:
UNLESS WE SEE PROOF, YOU HAVE PAID; WE WILL NOT PROCESS YOUR APPLICATION AND YOU WILL NOT BE CONTACTED.
£5 per year allows you to apply for as many dogs as you wish over a 12-month period from your first application. Please mention if you have paid by PayPal or Bank Transfer on any previous applications so we can cross reference.
Below is the link to the Application Form.
https://www.cognitoforms.com/GeordieBulliesSpringboard1/adoptionapplication
A little of Zola's story below,
SAFE Zola
We were contacted late Friday afternoon by a distraught lady who had taken on two girls with the very best intentions of helping them. She had not even had them 24hours before contacting us.
The girls had to be separated from her own two Shar Peis and each other almost immediately.
As you can imagine these poor babies were so frightened and stressed about moving into a home after living in kennels. The Sharp Peis in the did not respond very well to two dogs coming into their home that they understandably, reacted towards each other. The lady tried contacting the "owner" but she discovered he had blocked her.
These poor girls are not toilet trained they look and smell terrible, and we can only imagine their pain and suffering.
Two beautiful young girls are dumped and abandoned because they hold no value to their greeder anymore.
This was an urgent rescue, which was time critical and would not have been possible without the help of our amazing volunteers, Kirsty Law and her husband Davie.
Kirsty and Davie drove from Scotland early Saturday morning to collect Zola from Merseyside and deliver her to her foster mum Kamila in Scotland.
Thank you so much, Kirsty and Davey, for everything. We are forever grateful for your continued love and support.
We know nothing about Zola, but we believe she is a 2.5-year-old, unspayed female, and she has had at least one litter.
Zola is covered in scars, some healed some new, from bite wounds to her ears, face, chin, and a large one on her tummy that looks to be a section scar and both ears look to have inner ear infections, also.
Zola will be visiting the vet as soon as possible so we can get this little girl started on her road to recovery and her very own happy ever after.
We can only imagine what life has been like for Zola.
Zola is a gorgeous girl with a gentle nature, and she has come in with absolutely nothing.
We put together an amazon wish list for Zola which our incredible supporters purchased gifts to start off Zola's new life of love and comfort.
Your worries are now over, sweet baby girl.
Your foster mummy and us will love and nurture you back to health.
Welcome to your GBSR family, sweetheart.
** Also, SAFE is Baby, who we will be announcing shortly **
So welcome to your GBSR UK journey beautiful girl, we can't wait to share it with you. 
Follow Zola https://www.facebook.com/geordiebullies
For more updates on all our dogs please join our community group
https://www.facebook.com/groups/1793138384086708/
{"slide_to_show":"3","slide_to_scroll":"1","autoplay":"true","autoplay_speed":"3000","speed":"800","arrows":"true","dots":"false","loop":"true","centermode":"false"}