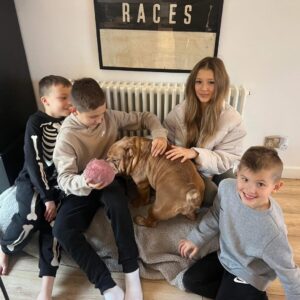 SPECIAL ANNOUNCEMENT
We are very happy to announce that our very popular girl Baby is now home.
Baby (now Ivy) was picked up on Saturday by her mum Jackie and has wasted no time getting to know her new home and loving family.
She is settling in really well and is clearly very loved already.
Mum Jackie had a sleepless Saturday night because she couldn't stop watching Ivy on her camera.
We would like to say a big thank you to Sarah for being an absolutely wonderful FM to Ivy.
We can't thank you enough for preparing Ivy for her forever home. You have been fabulous and dedicated to her.
So please join us in congratulating Jackie and her beautiful family on their new girl Ivy. We wish you many years of happiness together.
To Ivy enjoy your happy ever after darling girl, we can't wait to see all the adventures you go on with your new family.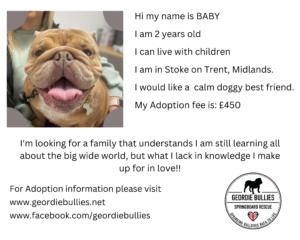 Dogs name:
Baby
Age:
2 years old
Current location:
Stoke on Trent, Midlands
I CAN LIVE WITH
Children:
Yes, dog savvy children.
Cats:
Yes, dog savvy cats.
Dogs:
Yes, laid back calm dogs.
A BIT ABOUT ME
Personality:
Baby has a wonderful happy nature; she never fails to make you smile.
She is a curious little soul, eager to learn what the big wide world has to offer.
She is playful and will seek you out with a toy when it's time to play or run around the garden.
Baby is so affectionate and will spoil her humans with cuddles and kisses.
Baby adores children and loves to play with them most.
Behaviour:
Baby hasn't had much in her little life which has left her protective of her toys with other dogs, she will happily share with her humans.
As a preventative we advise that she is fed separately from any resident dogs.
Baby is anxious of other dogs in her space but with gentle and slow introductions she's soon happy to make friends.
Needs:
Baby is suited to most family environments, with a family that will keep her involved with daily life and adventures.
She needs a family that understands she is new to the outside world and learning still.
Walk/exercise:
Baby loves her walks; she enjoys walks alone and with company.
Baby doesn't pay attention to other dogs she likes to enjoy her environment sniffing all there is to sniff.
She does become anxious if a dog reacts aggressively towards her but will come round with gentle reassurance.
Toilet trained:
Baby is used to living in a kennel environment, she is doing very well with toilet training and will use puppy pads.
With a good toileting routine, she will soon learn.
Can be left:
Baby is crate trained, so preferably she will have one in her new home. Baby settles well and can be left up to 4 hours.
Travel:
Baby does not travel well; she will need someone to sit with her and give her lots of reassurance and stop if necessary. Because of this we can only accept applications within an hour of Baby's current location.
Things to be aware of:
Baby has had a very sheltered life, kennelled away as a breeding female. Her family needs to understand that she is still getting used to all that is everyday life.
Any young children in the home must be supervised, as Baby has the potential to jump and knock smaller children over in play.
Children must understand that bulldogs need time to settle in and have space to rest peacefully and uninterrupted.
Baby is due to be spayed this will be done before she goes home.
Additional information:
Baby is an incredibly happy little girl, and is ready to live her best life, loved and spoiled as she should be. Baby will be the most wonderful addition to any family!!
A little of Baby's story below,
SAFE Baby
You may have seen the previous post of Zola.
Baby was the second dog we rescued yesterday from the same home. The lady was given them both from a selling site but after 24 hours couldn't keep them.
Yesterday was up there with one of the most stressful days of GBSR.
Bethany had travelled to collect Baby and was meeting Mandy Carpenter and her husband, so Mandy could take her the rest of the journey to her foster. The whole journey was nearly 5 hours.
But Bethany called us with a scary situation with Baby.
1 hour 20 minutes into the journey, Baby had gone into respiratory distress, and she had to pull over in a service station at 9.30pm. 
Baby's breathing was horrible she was going blue, and they were alone miles from home.
The admin team helped her and stayed on video calls to offer support and
Mandy travelled an extra 45 minutes to help her with Baby.
Beth was amazing, she calmed Baby down and slowly she cuddled into her for comfort.
We decided at this point that we couldn't travel her further and needed a plan B. So, we booked Mandy and her husband into the travel lodge with Baby to settle her for the night whilst we fathomed out what to do next.
This morning we called Park vets nearby to get her some medication to calm her, but after discussing the situation with the vet, it was decided that the meds might not work, they would take hours to kick in and to just see her was £285 without any meds! So, we were back to the drawing board.
Sarah Dronzek answered our pleas for help and offered to foster Baby in the Midlands with her lovely old boy Alfie.
Sarah was 45 minutes from Baby's location, so Mandy and her husband took the journey in stages to get her there safely.
Poor Baby is definitely a kennel bitch, she is scared of everything that she's never seen before.
Poor Mandy and her husband have had a horrible time and without them we don't know what we would have done!
Baby has very sore eyes, which will make her worse as she can't see.
She's smelly, dirty, and covered in scars. God knows what life she's had, but we will make sure every day from here on, she never looks back.
Thank you to Mandy Carpenter and your husband for everything you have done. There aren't many people in the world like you! We will be forever grateful that you helped Baby.
Massive thanks to Bethany Grace Hitchin for your part in her journey and for keeping her safe.
Finally, thank you also to Sarah Dronzek for stepping up when we needed you.
Fingers crossed, in a few days when she's decompressed, she won't be so scared of the big wide world each and every one of you has saved these little girls life, and we will forever be indebted to you.
Baby came in with nothing, so we have an Amazon wish list for her. As always, our incredible supporters purchased gifts to ensure Baby gets the best start loved and with comfort.
You are safe now, poppet, and you will know what it's like to be loved and cherished.
So welcome to your GBSR UK journey beautiful girl, we can't wait to share it with you. 
Follow Baby https://www.facebook.com/geordiebullies
For more updates on all our dogs please join our community group
https://www.facebook.com/groups/1793138384086708/
{"slide_to_show":"3","slide_to_scroll":"1","autoplay":"true","autoplay_speed":"3000","speed":"800","arrows":"true","dots":"false","loop":"true","centermode":"false"}