Nala & KiKi – In Foster – Midlands
Nala & Kiki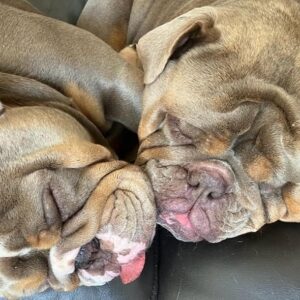 Look at these girls, what do you see?
We see two beautiful young bulldogs who are 18 months old and looking forward to a healthy, happy life, but this is NOT what the vet sees.
Nala and Kiki are sisters, and they are both suffering from severe Hip Dysplasia, add to that, Luxating Patella, Cruciate Ligament damage and Eye issues.
Right now, we are waiting for the estimate from the vets, and we know it's going to be hefty but the more worrying aspect is that, one of the girls hip socket is very shallow and we don't know right now if she can even be helped with surgery so then 'quality of life' is thrown in the hat with everything else.
We are shocked and we are saddened so all we can do right now is pray that the last few scans we are waiting for come back with more favourable news.
Unfortunately not the news we had all prayed for
It's heart-breaking knowing this is what the future holds for these girls 100% their life will be miserable, lived on cocktails of drugs until their limbs can no longer carry them and their eyesight has long gone this is their reality!
We try our very best to provide a 'future' for GBSR dogs and if we could, we would ban back street breeding and those Breeders that only see £££ and carry-on producing litters of puppies 'exotic colours' or 'rare colours' with serious health problems well why not? it's not their problem right?
If big hearts and love could produce the answer for badly bred dogs, then we would all be happy BUT that's not going to happen.
The answer to this is £2800 but now multiply that by 2!!
Nala and Kiki have only ever known discomfort and pain during their 20 months of life, BUT they are now with GBSR UK and we can throw them a lifeline, but to do it, we desperately need your help we can't watch them suffer, we have to try because frankly no-one has….!!
Below is a list of problems the girls need surgery for……
Patella luxation x 1,
Bilateral hip dysplasia x 2,
Cruciate ligament rupture x 1,
Possible cruciate rupture x 1,
Meniscal tear x 2,
Bilateral entropion x 2,
Spay x 2
The road to recovery is going to be long and slow for these young girls but with surgery, we can fix them, and they will have a pain free and fully mobile future.
Please help Nala & Kiki with a donation towards the estimated cost of their surgery of £5600 Any amount is gratefully received.
Please mark your donation to Nala & Kiki so we can keep track. Thank you.
Here is how you can donate:
PayPal (Friends & Family) gbspringboard@gmail.com
Enthuse https://geordiebullies.enthuse.com/donate#!/
Bank Transfer
Account Name, Geordie Bullies Springboard Rescue
Sort Code 09 01 28
Account no. 92014344
How much would you give to….
Save a young Bulldog from severe lifelong chronic pain?
Save a young Bulldog from crippling immobility!
Save a young Bulldog from lifelong eye ulcers and almost certain blindness!
Thank you for reading and thank you for your continued support of GBSR UK!
Follow Nala & KiKi https://www.facebook.com/geordiebullies/
{"slide_to_show":"3","slide_to_scroll":"1","autoplay":"true","autoplay_speed":"3000","speed":"800","arrows":"true","dots":"false","loop":"true","centermode":"false"}