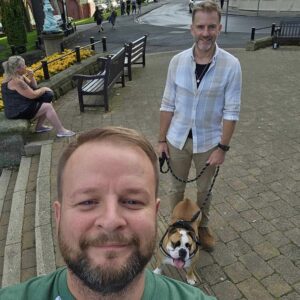 We absolutely love a failed foster!!
Missy is home.
At the age of 1.5 years old, Missy came into foster back in February this year with Heather Turner, but because of Missy's challenging behaviour, we made the decision to move her to Ian and Matthew in Yorkshire.
Ian and Matthew have been working very closely with Missy for the past 10 weeks, and Missy has really flourished beyond all our expectations.
This gorgeous little girl has bonded with her new slaves and trusts them implicitly. Missy has wasted no time in charming her way into Ian and Matthews hearts, so when they asked us if they could adopt Missy, we were naturally ecstatic and said yes straight away. You see deep down we always hoped this day would come as we could all see Missy had already chosen our Ian and Matthew to be her furever family.
We would like to say a huge thank you to Missy's first foster mum, Heather. Thank you for trying so hard with Missy Heather. We are all very appreciative of your love and care of her. Also, a massive thank you to Missy's new Dad's on providing this beautiful girl with all the right tools to enable her to perform her very own magic.
So, with no further ado, please join us in congratulating Ian and Matthew on their beautiful furever girl, Queen Missy.
To Missy, your new life starts here, baby girl. No more moving around for you, you now have your forever home where you will be treated like the Queen you are.
Have the most wonderful, loving, and joyful life, beautiful girl. We can't wait to see all your new adventures.
A little of Missy's story below,
Missy came to GBSR a 1.5 years old unspayed female.
Missy came into GBSR with her older sister Dotty 2.5years old.
But we had made the decision to rehome them separately due to conflicts between the pair.  
We were contacted by their owner to see if we could re-home them. She originally asked someone to take them, but after not being able to contact the family involved, she was concerned and asked to see them.
When she went to visit, she felt they needed more care than they were getting and took them home again and called us.
Missy has cherry eye but when she was taken to our vet to have it repocketed she panicked reacted badly towards the vet staff. So we decided to wait and work on her fears while she waited to be spayed, but her luck never changes and after being put under anaesthetic it was discovered that she was having a phantom pregnancy, so they repocketed her cherry eye, which unfortunately failed almost immediately. 
Missy had a lot of fear making her reactive towards her harness, traffic, and strangers so we had to make the decision to move her for a more quieter life. Sadly her foster mum Heather agreed with our decision as it was what was best for her.
A big thank you to Heather for opening her home for yet more foster dogs and for collecting the girls. We appreciate how hard you work for every dog you bring home.
We moved Missy to Ian & Matthew in Yorkshire where she settled quickly and they concentrated on helping her beat her fear.
When she is ready for her forever home her Adoption Poster will be shared, so please keep your eyes peeled for more Missy updates.
Welcome to your GBSR Family! We cannot wait to share the next chapter of your life with you!
Follow Missy https://www.facebook.com/geordiebullies/
{"slide_to_show":"3","slide_to_scroll":"1","autoplay":"true","autoplay_speed":"3000","speed":"800","arrows":"true","dots":"false","loop":"true","centermode":"false"}