Nala & KiKi – Now Adopted!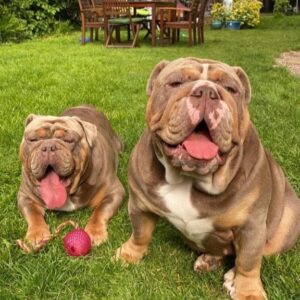 We love a failed foster!!
We are absolutely over the moon to announce that our beautiful girls are now home and they haven't moved!
After much discussion, we made the decision to ask Nala and Kiki's foster family if they would like to adopt these pair of beauties.
This isn't normal protocol but considering how long they have been in foster and how long their recovery time will be it wouldn't have been in the girl's best interest if we were to move them. So, we popped the question, and they said YESSSSS!!
So, with no further ado, will you please join us in wishing Debbie, Colin and family many congratulations on their beautiful girls Nala & Kiki
Happy New lives beautiful girls!
We wish you many years of joy, love and happiness with your furever family.
The Girls Journey with GBSR below,
We saw two beautiful young bulldogs who are 18 months old and looking forward to a healthy, happy life.
Nala and Kiki are sisters, and we were aware they were both suffering from some health issues, but it was so much worse than we could have imagined. The list of health issues for these girls was truly heartbreaking for both the charity and their foster family.
As you can imagine we waited for the report and estimate from the vets, and we knew it's going to be hefty but the more worrying aspect is that, one of the girls hip socket was very shallow and we didn't know if she could even be helped with surgery so then 'quality of life' was thrown in the hat with everything else.
Patella luxation x 1,
Bilateral hip dysplasia x 2,
Cruciate ligament rupture x 1,
Possible cruciate rupture x 1,
Meniscal tear x 2,
Bilateral entropion x 2,
Spay x 2
The answer to this is £2800 but multiply that by 2!!
Unfortunately, not the news we had all prayed for, it was heart-breaking not knowing what the future held for these girls.
What if 100% their life would be miserable? Or would they face living on cocktails of drugs until their limbs could no longer carry them and their eyesight had long gone this was the reality of their future if we didn't step in!
Nala and Kiki had only ever known discomfort and pain during their 20 months of life, BUT they were now with GBSR UK and we were determined to throw them a lifeline, but to do it, we desperately needed help we couldn't watch them suffer, we had to try because frankly no-one else would!!
That is where the incredible supporters of GBSR stepped up, they donated and took part in auctions, walks and other fundraisers and together we did it, we raised the £5600 that we needed to give the girls the chance of a happy pain free life.
The girls are now healing well from all their surgeries, recovery will continue but recover they will and they will have a pain free and fully mobile future.
We try our very best to provide a 'future' for GBSR dogs and if we could, we would ban back street breeding and those Breeders that only see £££ and carry-on producing litters of puppies 'exotic colours' or 'rare colours' with serious health problems well why not? it's not their problem right?
Follow Nala & KiKi https://www.facebook.com/geordiebullies/
{"slide_to_show":"3","slide_to_scroll":"1","autoplay":"true","autoplay_speed":"3000","speed":"800","arrows":"true","dots":"false","loop":"true","centermode":"false"}