Annie – is ready for adoption – North West
Annie is an amazingly loving and excitable young girl, and in typical Bullie fashion can be clumsy and stubborn. All adding to her personality that makes her so special. She never gets tired of being fussed and loved and would happily spend all day in your lap. Annie thrives on any interaction be it from her human or other dogs in the home.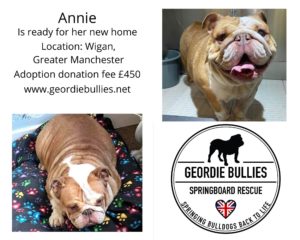 Dogs name: Annie.
Age: 3 years old.
Can live with children: Yes, dog savvy.
Can live with dogs: Yes, spayed/neutered.
Can live with cats: Untested. 
Current location:  Wigan, Greater Manchester.
Things to be aware of: 
Annie can be overly playful and sometimes not understand when to stop. Her foster family monitor play time and help Annie to take time out to calm down. Annie can be mouthy in play so any young children would need to be supervised. Annie came into foster with eye, ear and skin infections she needs regular ear cleaning which she isn't a fan of but with reassurance she will allow you to do, and regular baths with her medicated shampoo which she is happy to do as she's getting more affection. Annie's new family will have to keep on top of her routines and any training her foster dad have put in place.
The ideal home:
Annie would be best suited to calm family home, where there will be company for her throughout the day. She is a very social girl so will need a home where she isn't left for long periods of time. One she can be included in daily family life and be loved and cherished like the little queenie she is. She enjoys short walks as currently on the curvier side of life but is doing well in losing them extra Christmas pounds.
Other comments: 
Annie hasn't had the best start to life, for what reasons we can never understand. She has proved to be the most amazing young girl, full of love and fun. With the most amazing character it's impossible not to fall in love with her. We dare you to try!
Annie's adoption donation fee is £450 and will need to be paid in full prior to her going home which will also be subject to a home check.
**The successful applicant will need to have an active Facebook and Messenger account for the life of the dog. If you cannot agree to this, please don't apply**
🚨 PLEASE READ CAREFULLY BEFORE APPLYING 🚨


You MUST MEET ALL the dogs' criteria, have you read the adoption criteria in full?
COMPLETE APPLICATION FORM
PAY YOUR £5 SUBSCRIPTION – SEE NOTE BELOW*
PAYMENT REFERENCE must on the application form to cross reference. Mention if you have paid by Paypal or Bank Transfer if you are unable to provide a Transaction Number so we can check. 
PAYMENT METHOD Via Enthuse using the link below.
https://geordiebullies.enthuse.com/donate
Note:
UNLESS WE SEE PROOF YOU HAVE PAID; WE WILL NOT PROCESS YOUR APPLICATION AND YOU WILL NOT BE CONTACTED.

£5 per year allows you to apply for as many dogs as you wish over a 12 month period from your first  application. Please mention if you have paid by Paypal or Bank Transfer on any previous applications so we can cross reference.

Below is the link to the Application Form.

https://www.cognitoforms.com/GeordieBulliesSpringboard1/adoptionapplication