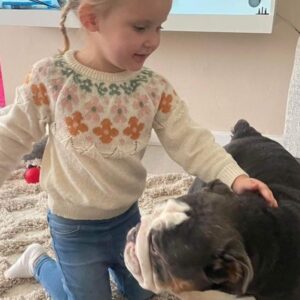 Some more lovely news to report this morning!
Thelma is home!!
Our gorgeous girl Thelma was collected yesterday by her new mum and dad, Morgan and Jake.
Thelma has had a great first night and has been busy getting to know her new surroundings and her new best friend Matilda.
We would like to say a big thank you to Claire for preparing Thelma for her forever home. You have done an amazing job and we are truly grateful.
So without further ado please join me in congratulating Morgan, Jake and Matilda
On their beautiful girl Thelma.
We hope you have many happy years together!!
To our precious Thelma have the most incredible life sweet girl, you deserve it!!
Previous adoption statement.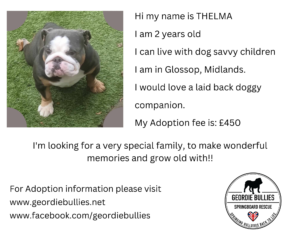 Dogs name:
Thelma
Age:
2 years old.
Current location:
Glossop, Midlands.
I CAN LIVE WITH
Children:
Yes, dog savvy children.
Cats:
Untested.
Dogs:
Yes, id like an active but laid-back companion.
A BIT ABOUT ME
Personality:
Thelma is such a sweet natured little girl, and ready to spoil her humans with love and affection.
She's very excited about the world and taking everything in at once, which can make her very eager.
Thelma is playful and cheeky; she will seek you out for play or just because she fancies a cuddle!
This beautiful soul holds absolutely no malice, and will become any families best friend to grow with.
Behaviour:
Thelma is very excitable and bouncy. She will jump up for attention when she first meets you. But with firm boundaries she listens and settles.
Thelma is very puppy like and has been sheltered coming from a breeding kennel the world is still very new to her, but she is wiling and keen to please.
Thelma can be a little over eager when meeting other dogs, this can be intimidating for some. But slow introductions and lots of reassurance will help her calm.
Thelma plays very well with the resident dog and shares toys very well.
Needs:
Thelma needs an active family home, a family that will keep her involved with all that is daily family life and take her on lots of adventures.
Thelma needs a family who is patient and able to put boundaries in place, continue training and building her confidence to ensure she reaches her full potential.
A garden is a must for this playful girl.
Thelma will benefit from a playful but laid-back doggy companion. Introductions must be done slowly as her excitement can be off putting with some dogs.
Walk/exercise:
Thelma absolutely loves her walks she is incredibly excitable.
Thelma wasn't walked regularly prior to GBSR and while she really enjoys them now, she does need continued training on lead, and has no recall at all.
Thelma can be anxious when meeting new dogs, she can often lunge and bark, but her reaction is excitement she has no malice whatsoever, she is easily spooked if walking in the dark.
Thelma will need continued leash training and appropriate socialisation to build her confidence and teach her boundaries, with the right support and guidance Thelma will thrive.
Toilet trained:
Thelma was not toilet trained when she came to GBSR but with a strict toileting routine she has come on leaps and bounds, now only having an occasional accident.
Can be left:
Thelma will settle happily either in her bed with resident dog, or in her crate. Preferably Thelma will have a crate for continuity in her new home. Thelma can be left for up to 4 hours, any longer and she may have accidents.
Travel:
Thelma enjoys a car ride she will curl up and go to sleep. Because of this we will accept applications of up to 4 hours away from her current location.
Things to be aware of:
Thelma has had cherry eye repocketing and is currently having eye drops to prevent irritation while they heal. This may need to continue for a short period of time in her new home.
Thelma does jump up in excitement but with firm boundaries and continued training this will stop.
Any young children in the home must be supervised, as Thelma has the potential to jump and knock children over.
Children must understand that bulldogs need time to settle in and have space to rest peacefully and uninterrupted.
Additional information:
If your family is active and adventurous then Thelma is the girl for you!! This little pocket rocket has so much love to give and joy to create. She is a 1 in a million type of girl ready for her 1 in a million type of family!
Thelma's adoption donation fee is £450 and will need to be paid in full prior to her going home which will also be subject to a home check.
**Every dog rehomed by GBSR receives Rescue Back-up for their whole Life. And the admin team are available for advice and support for the whole of that dog's lifetime via Messenger, therefore the successful applicant will need to have an active Facebook and Messenger account for the life of the dog. If you cannot agree to this, please don't apply**
🚨 PLEASE READ CAREFULLY BEFORE APPLYING 🚨
You MUST MEET ALL the dogs' criteria, have you read the adoption criteria in full?
COMPLETE APPLICATION FORM
PAY YOUR £5 SUBSCRIPTION – SEE NOTE BELOW*
PAYMENT REFERENCE must on the application form to cross reference. Mention if you have paid by Paypal or Bank Transfer if you are unable to provide a Transaction Number so we can check.
PAYMENT METHOD Via Enthuse using the link below.
https://geordiebullies.enthuse.com/donate
Note:
UNLESS WE SEE PROOF, YOU HAVE PAID; WE WILL NOT PROCESS YOUR APPLICATION AND YOU WILL NOT BE CONTACTED.
£5 per year allows you to apply for as many dogs as you wish over a 12-month period from your first application. Please mention if you have paid by PayPal or Bank Transfer on any previous applications so we can cross reference.
Below is the link to the Application Form.
https://www.cognitoforms.com/GeordieBulliesSpringboard1/adoptionapplication
A little of Thelma's story below,
Please welcome the beautiful Miss Thelma to our GBSR family!
Thelma is a 2 year old ex breeding female.
Our little Thelma is living her very own rags to riches story. Well her rags days are over and we will do everything to make sure she knows her riches era has started.
Thelma was recued from a back yard breeder who had not time or love for this sweet little girl as she wouldn't "take" so of course she was thrown away because she held no financial value. She has lived her short little life in a Kennel so you can imagine just how scary the big wild world is for her.  
The lady who rescued her, had no intentions on keeping her but rather to find her a happy home. Unfortunately she has no experience with the breed so has been unable to manage Thelma's needs. So she reached out to us for help.
Thelma has cherry eye, interdigital cysts on her paws, and we are a little concerned about her mobility. She will be seeing our vet today.
Huge thank you to Claire and Scott for driving all the way from the midlands to the North East to collect her and offering her a home. We have no doubt she will do so well with your Stella and will soon love playing and doing all the daft bulldog things she's supposed to do!
So welcome to your GBSR UK journey beautiful girl, we can't wait to share it with you. 
Follow #Thelma https://www.facebook.com/geordiebullies
For more updates on all our dogs please join our community group
https://www.facebook.com/groups/1793138384086708/
{"slide_to_show":"3","slide_to_scroll":"1","autoplay":"true","autoplay_speed":"3000","speed":"800","arrows":"true","dots":"false","loop":"true","centermode":"false"}