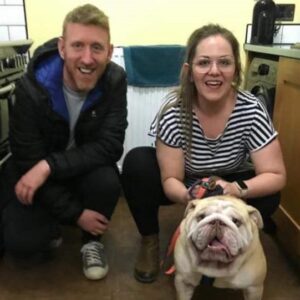 Barkley is Home!
We are absolutely overjoyed to announce Barkley is now home.
Barkley joined his new family Faye, Alex and his new fur sibling Walter. He is enjoying getting to know Walter and is very much being loved and adored.
Barkley wasted no time training his new servants and makes sure they put his favourite radio station on every night (Smooth Radio) to help soothe him off to sleep.
Please join us in congratulating Faye, Alex and Walter on their gorgeous new addition to their family.
We wish you a lifetime of happiness together and look forward to sharing the next chapter of your life with you!
Be happy gorgeous boy and try not to destroy too many toys.
A massive thank you to Michelle and Steve Cathcart for loving and caring for Barkley and preparing him for his forever home. We are grateful to you as always.
A little of Barkley's story below,
Barkley has been described as absolutely adorable but extremely stubborn. He is very loving and has perfected the famous 'Bulldog Deaf Ear' to a tee…!! He is a sociable boy both in and out of the home and will happily interact with dogs and people alike on his walks.
He is a toy-suckler and a toy destroyer and wants to be involved with everything going on around him and loves being taken out and about in the car.
Dogs name: Barkley
Age:  3 years
Can live with children:  Yes
Can live with dogs: Yes
Can live with cats:  Untested
Current location:  Newcastle, Tyne & Wear
Things to be aware of: 
Barkley has sensitive skin and suffers from allergies. He is currently on medication (Apoquel) for this and will need medication probably for life to help keep his allergies under control.
He must remain on Royal Canine Hyper allogenic food which is readily available.
The ideal home: 
Barkley is such a happy boy around people and other dogs, it would be lovely if he was rehomed where he was part of an active family where is will not be left for long periods and where he will continue to have lots of fun in life.
Other comments:
Barkley is adorable, cheeky, stubborn, and loving and he has been a pleasure in foster.
He adores riding in the car so will look for the ideal home for Barkley up to 4 hours from his current location in Newcastle.