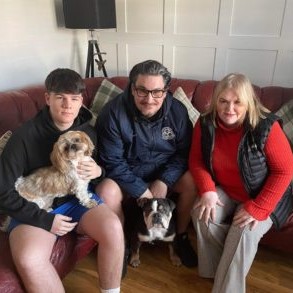 Bea is home.
Congratulations to Anderley and Steve Powell on your beautiful little girl Bea.
Bea was collected by Anderley and Steve and has settled in wonderfully in her new home.
Bea is doing really well in a family where she isn't spending many hours alone and has little Hugo as her sidekick.
We look forward to your many adventures with Bea and Hugo.
Wishing you all a very Merry Christmas and the happiest New year from all of us here at GBSR
Huge thank you to Becki for opening your family and home to help Bea find her happily ever after. Well done for all your hard work to get Bea ready to go home. We are truly grateful for everything you have done for her.
A little of Bea's story below,
Bea has been described by her foster mum as the 'funniest, quirkiest whirlwind' of a girl. She is very loving and will give kisses if asked and she loves cuddles. She is very food orientated which makes her a dream to train but she will also eye up food that isn't hers and will try and grab it if given half a chance.
She isn't a rough play girl, but she is playful, and she is also a nosy madam, she loves to sit at a window and watch the world go by.
Bea likes to be in front when she is out walking and will pull on her lead, so she uses a 2-point harness which helps. She is a sociable girl who likes to say hello to everyone she meets
Dogs name: Bea
Age:  2 Years 2 months
Can live with children: Yes, dog savvy aged 8 years and above
Can live with dogs: Yes, submissive dogs
Can live with cats:  Yes, dog savvy cats
Current location:  Darlington, County Durham
Bea is very sociable, so she really needs home where is not left for long periods.
She is generally good with other dogs and has been living with male staffy in foster. But she isn't keen to share her toys with him, or high value treat based toys, so any resident dog in her new home must be laid back around food and toys and they will need to be fed separately.
Bea is typical of most bulldogs, as in, she doesn't realise her size so young children need to be supervised. And as mentioned, any resident children need to be mindful that she will eye up any snacks if they are not eating at a table.
Bea has her safe space which is a crate with a blanket over so there needs to be room for this in her new home.
Other comments: 
Everyone that meets Bea loves her. She is quirky and funny, but she also needs boundaries when it comes to food so her new owners need to carry on with positive reinforcement.
She loves her walks and exploring new places so she will need an active owner that will include her as part of the family 
{"slide_to_show":"3","slide_to_scroll":"1","autoplay":"true","autoplay_speed":"3000","speed":"800","arrows":"true","dots":"false","loop":"true","centermode":"false"}