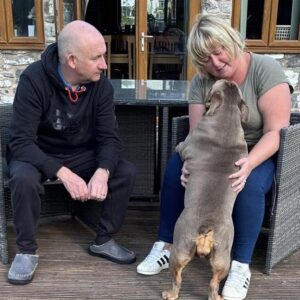 More happy news to report, Lyla is now home!
Lyla was collected yesterday by her new slaves Emma and Mark.
She is already starting to find her feet and has enjoyed a nice walk and playing ball in the garden. We are so happy for her.
Massive thank you to Bec and family for being a fabulous foster family to Lyla. You have done an amazing job preparing her for her forever home.
She has been very a lucky girl to have you take such good care of her.
Please join me in congratulating Emma and Mark on their beautiful princess Lyla.
We wish you many years of happiness together.
Lyla's previous Adoption Statement below,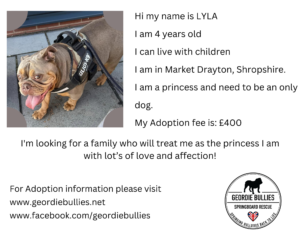 Dogs name: Lyla.
Age: 4 years old.
Current location: Market Drayton, Shropshire.
I CAN LIVE WITH
Children: Yes, I love children.
Cats: No
Dogs: No
A BIT ABOUT ME
Personality:
Lyla has the sweetest temperament.
She is playful and active, loves playing ball and especially tug of war.
Lyla will actively seek you out for attention she loves affection, cuddles and kisses.
Lyla is the ultimate companion dog; her humans are truly her best friends.
Behaviour:
Lyla can be excitable at times and does like to rough play with her foster dad, but she understands when it's time to stop.
She can jump up when she's excited but responds well to no.
Any children in the home must be supervised, as Lyla has the potential to jump and knock smaller children over.
Children must understand that bulldogs need time to settle in and have space to rest peacefully and uninterrupted.
Lyla is quite noise sensitive and jumps at sudden noises, with gentle reassurance she is fine, she doesn't like the hoover or lawnmower.
Needs:
Lyla will suit most home environments a calm but active family home with children to fuss over, to a single person home with someone she can relax and enjoy the quiet companionship.
Lyla relies on her humans and can get anxious when left for too long or too often so we would be looking for someone to work from home or be home the majority of the day.
Walk/exercise:
Lyla walks nicely on a lead. She can pull slightly when she's excited but when brought to heel she happily.
Lyla walks best with a harness as she can wiggle out of a collar.
She does sometimes play a little and can mouth the front strap of her harness as she has it placed over her head.
Lyla sniffs and smells other dogs, but she prefers her human's company.
She has shown no aggression towards dogs whilst out on a walk but will shy away.
She will happily walk on and has also sat and watched other dogs playing.
And in typical bulldog fashion she decides if and when she will recall.
Toilet trained:
Yes, Lyla is a good girl.
Can be left:
Lyla can be left for up to 3 hours on occasion in a secure room with a comfy bed, water and toys to keep her occupied, although she will likely just snooze until her humans come home. Any longer and she may become anxious.
Travel:
Lyla initially gets a little anxious in the car but then lies down and settles.
Because of this we will consider applications of up to 4 hours away.
Things to be aware of:
Lyla doesn't mind greeting dogs whilst out for a walk, she doesn't cope well with another dog in the home. So, we have made the decision to rehome her as an only dog.
Lyla came back to GBSR a little on the large side so is on a diet and must continue on a controlled diet.
Lyla has food allergies and should stay on her current food Ava white fish sensitive.
Additional information:
Lyla is the most incredible girl, who will dote on her human family. She will be a wonderful addition to any family!
A little of Lyla's story below,
Look who is back with us.
Welcome back home, gorgeous Lyla.
Lyla was very sadly fighting with the resident dog and upsetting the harmony within her home.
After a lot of discussion, her devastated family made the heart breaking decision to return her to us as they felt their home wasn't right for Lyla and her needs.
We are totally devastated for you all, but please take comfort in knowing you have made the right decision for both pups.
Lyla is now in foster with Bec in the West Midlands and so far, she is settling in well and Bec is already falling in love with all Lyla's charms.
This gorgeous girl will be under a period of assessment for the time being, so please do not contact us about Lyla.
Welcome back into the arms of your GBSR family, Lyla.
A little of Lyla's story below,
Lyla is a lovely girl who is playful with bags of character. She lives with 'Babs the Pug' in her foster home, and they are both strong willed, so any playtime is supervised. Lyla loves Babs and they will snuggle up together for snoozes.
Lyla is very affectionate and will seek out any human for company and will follow her foster dad everywhere. And if she is ignored, she will sometimes jump up to make sure you know she is there.
She loves her walks and she is excited to meet other dogs when out.
Whilst she can be stubborn and 'Queen of Sulks' she does understand commands such as Sit, Paw, Wait, Down /Off (Sofa) … but in typical Bulldog style she sometimes decides if she will comply.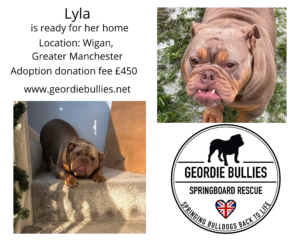 Dogs name: Lyla
Age:  3 years 10 months
Can live with children: Yes
Can live with dogs: Yes
Can live with cats:  Untested
Current location:  Wigan, Greater Manchester
Like many Bulldogs, Lyla thinks she is a lap dog as she just loves to be close to her humans. She will live with another dog but there needs to be supervision over toys and over feeding times, and ideally, they would be fed separately.
Lyla initially displayed her anxiety in a new home by trying to hump Babs which has stopped but she may regress a little in her new home if there is a resident dog.
Lyla is crate trained, travels well and will make a lovely and very loving family pet.
{"slide_to_show":"3","slide_to_scroll":"1","autoplay":"true","autoplay_speed":"3000","speed":"800","arrows":"true","dots":"false","loop":"true","centermode":"false"}