Bear has been described by his foster mum and a loveable gentle giant who loves company, isn't into rough play but loves a squeaky toy.
He enjoys his twice daily walks but can react to small yappy dogs so his foster mum pops him back on a lead if there are small dogs around. Otherwise, he is happy off lead, although is perfecting a 'Bulldog Deaf Ear'.
Bear does understand and responded well to simple commands, and he loves hugs and attention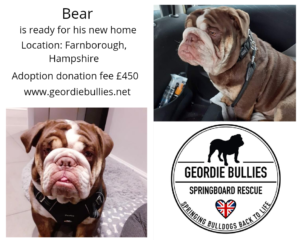 Dogs name: Bear
Age:  1 Year 3 months
Can live with children:  Yes, dog savvy children
Can live with dogs:  Yes, a friendly, laid-back dog
Can live with cats:  NO
Current location:  Farnborough, Hampshire
Things to be aware of: 
Bear really doesn't like cats and will chase one if he sees one.
Bear is very strong and will pull a lot when out walking as he loves to get near other dogs so he will need a firm hand and requires more training in this area.
The ideal home: 
Bear is a sociable boy and as such he needs to be included in family life. He is active so we are looking for a home where he will be taken out and about and not left at home for long periods.
Bear is a big lad so we feel children already used to dogs in the home would be better suited to him and obviously any young children would need to be supervised as he could easily knock them over.
Other comments: 
Bear can live with another friendly dog; he is already neutered so there is no restriction, but any resident dog will need to be relaxed sharing their home and humans. Obviously, any resident dog couldn't be a small yappy type.
Bear is only young, and he has a lot of love to give his new family. He is an ok traveller but can be a bit restless so he can be rehomed up to 4 hours form his current location, but he might need a pit stop.
Bear's adoption donation fee is £450 and will need to be paid in full prior to him going home which will also be subject to a home check.
🚨 PLEASE READ CAREFULLY BEFORE APPLYING 🚨
You MUST MEET ALL the dogs' criteria, have you read the adoption criteria in full?
COMPLETE APPLICATION FORM
PAY YOUR £5 SUBSCRIPTION – SEE NOTE BELOW**
PAYMENT REFERENCE must on the application form to cross reference. Mention if you have paid by Paypal or Bank Transfer if you are unable to provide a Transaction Number so we can check.
PAYMENT METHOD Via Enthuse using the link below.
geordiebullies.enthuse.com/donate

Note:
UNLESS WE SEE PROOF YOU HAVE PAID; WE WILL NOT PROCESS YOUR APPLICATION AND YOU WILL NOT BE CONTACTED.
£5 per year allows you to apply for as many dogs as you wish over a 12 month period from your first application. Please mention if you have already paid by Paypal or Bank Transfer on all subsequent applications so we can cross reference.
Here is the link to the Application Form.

https://www.cognitoforms.com/GeordieBulliesSpringboard1/adoptionapplication