Monty is described by his foster family as a lovely boy who just adores human attention. He loves to be near his human or wants to know where his human has gone! He loves being stroked and snuggled and will give you a reminding paw if you haven't lavished enough attention on him!!!

Monty walks best on a collar and lead when out on adventures. He has been walked alone and can pull initially but he then settles and walks to heel.

Monty has good recall unless he becomes distracted, typical Bullie!
Monty is a very clever boy and learns very quickly. He knows basic commands although can be stubborn , treat training is advised.

Monty enjoys playing and shows no possessiveness with toys. He is quite a vocal boy and can be even more so when playing.

Monty enjoys a bath , he isn't a great fan fan of his cleaning regime but will stay for treats . Again further work needed to grow confidence .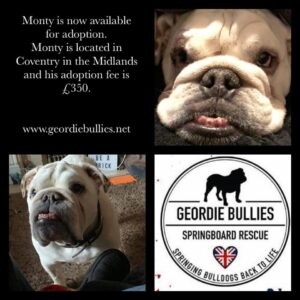 Dogs name: Monty

Age: 5

Spayed/ Neutered: Yes

Can live with children: Older children

Age of children : 12 plus

Can live with dogs: Monty could live with a laid back female but would also be happy as an only dog.

Can live with cats: Can give chase

Current location: Coventry, Midlands

How far can the dog travel from current location: Monty can Travel up to 4 hours

Things to be aware of:

Monty is a complex soul and came to us with very severe separation anxiety. He didn't like to be left and became very stressed. Monty has been on anti anxiety medications from the vets and this will need to continue in the short term to allow him to settle in a new environment . The hope is eventually they would be no longer required.
Monty's separation anxiety means he becomes very stressed when left alone. His foster family have been working hard with this and he is gradually learning that being left alone isn't all bad. Monty will needs continued time and patience working on his anxieties by his new family.
Monty has had entropion surgery , this requires no further treatment . He may need a lubricant going forward at a very minimal cost.
Monty can be prone to chasing cats but also scooters, footballs and bikes in the park too. This will require awareness on his new family's part and continued work and training going forward.
When playing Monty can get very overexcited so rough play isn't advisable. If you are playing and you stop but he doesn't want to then Monty can become jumpy and mouth. You would need to be prepared and use stern commands to discourage unwanted behaviour.
This is the reason he can't be rehomed with younger children .

The ideal home:

Monty will make a lovely addition to the right home. He will require somebody who will be at home a majority of the time, even past lockdown. He will need a family who are bulldog savvy and can put in place boundaries and continue to work with him.
Monty can get over excited so with this in mind we are rehoming him with dog savvy children over 12, so they will have a better understanding of how to keep him calm when he's getting over excited and playful.
Monty has only lived with a dog for a short period I foster. We feel he could live with a laid back female only or as an only dog.

Other comments:

Monty is a wonderful boy who with consistently, time and patience from his forever family will continue to grow and flourish. He will need someone with knowledge of the breed who will put in place firm boundaries.

Monty is toilet trained and travels well, we will consider a new home for her up to 4 hours from his current location in Coventry.

If you have any questions, please ask Cara Donnelly foster mum to Monty.

Monty's adoption fee is £350 and will need to be paid in full prior to going home which will also be subject to a home check.

 PLEASE READ CAREFULLY BEFORE APPLYING 

1. Have you read the adoption criteria in full? You must meet ALL dog's criteria.
2. COMPLETE APPLICATION form and pay your £5 subscription
3. PAYMENT REFERENCE must on the application form to cross reference.
4. PAYMENT METHOD : pay via PayPal www.paypal.me/gbspringboard or
Bank transfer Sort : 09.01.28 Acc : 92014344.

 UNLESS WE SEE PROOF YOU HAVE PAID; WE CANNOT PROCESS YOUR APPLICATION .

£5 per year allows you to apply for as many dogs as you wish should you not be suitable on your first Application.
To apply, please complete the application form below

https://www.cognitoforms.com/GeordieB…/adoptionapplication