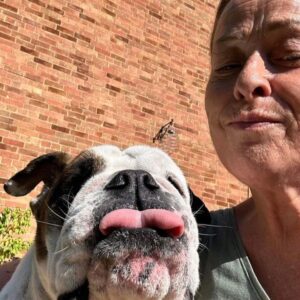 Bella is home.
We are absolutely delighted to announce that beautiful Bella is now home.
Bella was picked up yesterday by her lovely new Mum Helen and has settled in beautifully.
She has had a very settled night in her very comfortable new bed.
What a sweetheart you are Bella.
We would like thank Patricia and the gorgeous Sofia for fostering Bella. You have been a wonderful foster family and can't thank you enough for all the love and care you gave Bella preparing her for her happy ever after.
Please join us in congratulating Helen and Bella.
We wish you many years of happiness together.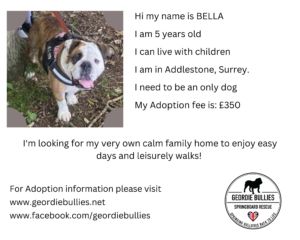 Dogs name:Bella
Age:5 years old.
Current location: Addlestone, Surrey.
I CAN LIVE WITH
Children: Yes, I love children.
Cats: No
Dogs: No
A BIT ABOUT ME
Personality:
Bella is a gentle soul and prefers an easy chilled out lifestyle. Bella is very affectionate towards her humans and will happily spend her days having lots of cuddles and leisurely walks.
Behaviour:
She's not a playful girl and has no interest in toys, much prefers to keep you company on your daily activities.
Any children in the home must be supervised, as Bella is a strong girl and has the potential to knock smaller children over.
Children must understand that bulldogs need time to settle in and have space to rest peacefully and uninterrupted.
Needs:
A calm but active family home with a garden with a  family that will include her in their daily activities and family life.
Walk/exercise:
Bella loves her walks; she is strong and does pull but with continued training this will improve. Bella is walked on her own but is happy to meet unfamiliar dogs and has shown no signs of reactivity whilst out.  Bella is currently enjoying 30-minute daily walks but could happily go longer.
Toilet trained: 
Yes, Bella is very good.
Can be left:
Yes, Bella is happy to stay in her basket in a secure room for up to 4hours.
Travel: 
Bella loves the car and travels well. Because of this we will consider applications up to 4 hours from her current location.
Things to be aware of:
Bella came into GBSR in season, she will be able to be spayed spayed as of September, and as such she will be going home on a 'to be spayed' contract which will be undertaken at a vet of our choice with costs covered by the charity.
Bella came to GBSR with a skin infection believed to be caused by allergies and untreated dry eye.
Her new family must be prepared to continue treatment.
She is currently having Malaseb baths which is improving her skin condition, this may need to continue in her new home.
For her dry eye she is having daily eye drops in her right eye and this will be ongoing treatment.
Bella must stay on her current diet of Royal Canin Hypoallergenic.
Additional information:
Bella is a beautiful and affectionate girl; she takes everything in her stride and will make the most incredible family member and best friend to anyone lucky enough to adopt her.
Bella's adoption donation fee is £350 and will need to be paid in full prior to her going home which will also be subject to a home check.
**The successful applicant will need to have an active Facebook and Messenger account for the life of the dog. If you cannot agree to this, please don't apply**
🚨 PLEASE READ CAREFULLY BEFORE APPLYING 🚨
You MUST MEET ALL the dogs' criteria, have you read the adoption criteria in full?
COMPLETE APPLICATION FORM
PAY YOUR £5 SUBSCRIPTION – SEE NOTE BELOW*
PAYMENT REFERENCE must on the application form to cross reference. Mention if you have paid by Paypal or Bank Transfer if you are unable to provide a Transaction Number so we can check.
PAYMENT METHOD Via Enthuse using the link below.
https://geordiebullies.enthuse.com/donate
Note:
UNLESS WE SEE PROOF, YOU HAVE PAID; WE WILL NOT PROCESS YOUR APPLICATION AND YOU WILL NOT BE CONTACTED.
£5 per year allows you to apply for as many dogs as you wish over a 12-month period from your first application. Please mention if you have paid by PayPal or Bank Transfer on any previous applications so we can cross reference.
Below is the link to the Application Form.
https://www.cognitoforms.com/GeordieBulliesSpringboard1/adoptionapplication
Bella's story below,
Bella is a 5 & half year old unspayed bitch.
We were contacted by her owner through our Facebook page. They needed to rehome Bella due to ill health. In the next few months, they would be spending a lot of time in and out of hospital and knew they wouldn't be able to care for Bella.
Recently they have struggled to get her skin issues under control. She has a skin issue which will need medical attention and further investigation as to what is causing it. On collection of Bella, we have noticed she has a sore/cloudy eye, she is very yeasty and sore in places. She is a little underweight as too.
Bella has already seen our vet and he confirmed she has dry eye, ear infection, skin infection, yeasty skin. So, she has had a steroid injection, she has ear cleaner and drops, cream for her eyes and malaseb for her baths.
We would like to say a massive thank you to Paul & Bev for collecting Bella and taking her to Patricia in the South East where she will be in foster.
When she is ready for her forever home her adoption Poster will be shared, so please keep your eyes peeled for more Bella updates on our rescue group.
Follow Bella https://www.facebook.com/geordiebullies/
For more updates on all our dogs please join our community group
https://www.facebook.com/groups/1793138384086708/
{"slide_to_show":"3","slide_to_scroll":"1","autoplay":"true","autoplay_speed":"3000","speed":"800","arrows":"true","dots":"false","loop":"true","centermode":"false"}