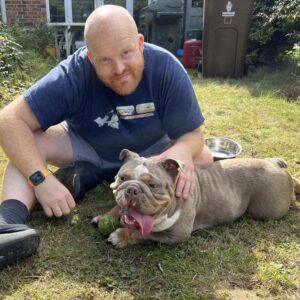 PEANUT IS HOME
We are over the moon to announce that beautiful Peanut is now home.
Peanut was collected by her new Dad Ryan and has gotten straight to work getting her new him wrapped round those little paws of hers.
Peanut is settling in nicely. She has taken the move in her stride, and Ryan has instantly fallen in love with her.
We would like to thank Paul and Kathy for fostering Peanut. You have had an amazing first foster, and we can't thank you enough. We hope you enjoyed your experience and will foster for us again.
So, I hope you will join us in congratulating Ryan on his beautiful new girl. We hope you have many happy years together.
To our precious Pea, this is your happily ever after the one you always deserved, so be a good girl and life happily ever after.
Peanut's previous adoption statement.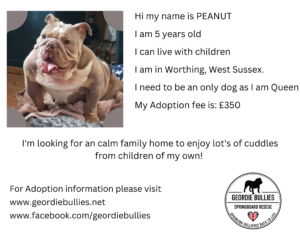 Dogs name:                                    Peanut (Sweet Pea)
Age:                                                 5 years old.
Current location:                            Worthing, West Sussex.
I CAN LIVE WITH
Children:                                         Yes, I love children
Cats:                                                No
Dogs:                                              No.
A BIT ABOUT ME
Personality:
Peanut is such a sweet lady; she is very laid back and loves a good cuddle and snooze.
Peanut is extremely affectionate towards her humans and will seek out affection and attention, if she can squeeze onto your lap she will try.
Behaviour:
Peanut has no understanding of commands; further training is needed.
She loves to play fetch it's her favourite; she will resource guard her toys from other dogs.
Peanut loves children and adults as long as you are willing to give her lap to sit on and warm arms to cuddle her in, she will be your best friend.
Needs:
A calm home environment, with a garden.
Any children in the home must be supervised, as Peanut is a big girl and has the potential to jump and knock smaller children over.
Children must understand that bulldogs need time to settle in and have space to rest peacefully and uninterrupted.
Walk/exercise:
Peanut loves her walks and likes to walk at gentle pace.
She is walked once a day for about 30 minutes and can be reactive towards other dogs, she is improving every day and as she continues to grow in confidence and training this will improve.
Toilet trained:
Yes, Peanut is toilet trained. She doesn't indicate when she wants to go out so a toileting routine will prevent any accidents.
May wet her bed, she does better with a blanket in her crate or bed as she settles in.
Can be left:
Peanut can be left for up to four hours in her crate so ideally, she will have one in her new home. She may bark for a few minutes but does settle quickly.
Travel: 
Peanut is a happy traveller. Because of this we will consider applications of up to 4 hours away.
Things to be aware of:
Peanut came into GBSR just starting her season, and as such she will be going home on a "to be spayed" contract which will be undertaken at a vet of our choice with costs covered by the charity.
Peanut has allergies so she must continue on her current diet of Purina hypoallergenic and must continue on Apoquel 16mg once a day, in her new home.
Peanut must be an only dog, and her new family must be prepared to support and continue training to build her confidence whilst out walking.
Additional information:
Peanut has the sweetest temperament and is shy to begin with. If you are looking for a best friend Peanut is your girl, and will suit most home settings.
A little of Peanut's story,
Please say hello and welcome to Peanut.
Peanut came in from the breeder alongside Smudge we have taken dogs in before from this lady. This lady is being evicted and is having to downsize her home which means she couldn't take all the dogs with her.
Peanut has very sore skin under her neck, she has dry red ears and thinning fur on the top of her head and back. Peanut is also in season.
She will be going to our vets for a full health check and to treat these ailments.
When she is ready for her forever home her adoption Poster will be shared, so please keep your eyes peeled for more Peanut updates on our rescue group.
A massive thank you to Emma and Dan for driving to meet her owner and doing a whopping 11-hour journey. Emma is keeping her in foster in the North East.
So welcome to your GBSR UK journey beautiful girl, we can't wait to share it with you. 
Follow Peanut https://www.facebook.com/geordiebullies/
For more updates on all our dogs please join our community group
{"slide_to_show":"3","slide_to_scroll":"1","autoplay":"true","autoplay_speed":"3000","speed":"800","arrows":"true","dots":"false","loop":"true","centermode":"false"}