.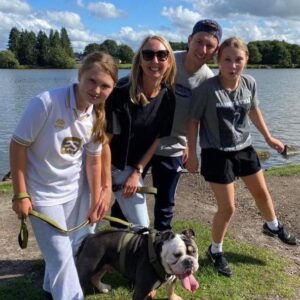 We are pleased to announce that Pablo is now home.
He was collected yesterday morning by Selina and her beautiful family.
Pablo is settling in really well and has had a good first night in his forever home.
Thank you so much to Claire Wilmot on a fabulous foster and preparing Pablo for his next chapter. You have been amazing, and we are truly grateful.
So please join us in congratulating Selina and family on their wonderful new addition.
To Pablo – welcome to your happy ever after.   
We all look forward to seeing lots of updates and hearing all about your adventures with your beautiful new family.
Previous adoption statement below,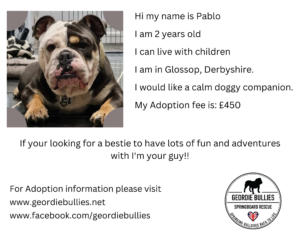 Dogs name: Pablo
Age: 2 years old.
Current location: Glossop, Derbyshire.
I CAN LIVE WITH
Children: Yes.
Cats: No.
Dogs: Yes, must be laid-back with no possessive, guarding behaviours.
           Slow introductions, we will guide in how best to introduce Pablo to any resident dogs.
A BIT ABOUT ME
Personality:
Pablo is quite the character and loves to be centre of attention.
This playful and cheeky chappy will keep you entertained with how he likes to talk back, and play.
Behaviour:
Pablo has typical bulldog behaviours i.e., being vocal and mouthing.
He can be reactive towards unfamiliar dogs; this is anxious behaviour from not being socialised properly. With ongoing training, it will continue to improve.
Needs:
A calm but active family home with a garden.
Pablo needs a Bulldog experienced family that are committed to training him, teaching him boundaries helping him reach his full potential.
Walk/exercise:
Pablo walks well with the resident female; He is currently having 3 walks a day up to 30 minutes during the day, and up to an hour early evening.
Toilet trained:
Pablo is very clean and will indicate when he wants to go out.
Can be left:
Pablo can be left for up to 4hours, he is happy to lay in his bed with resident female dog.
Travel:
Pablo travels well, he will need a seatbelt restraint, or he will try and get into the front of the car. Because of this we will consider applications up to 4 hours away from his current location.
Things to be aware of:
Pablo has allergies especially to chicken so must stay on his current diet of Royal Canin hypoallergenic.
Pablo came into GBSR with Yeasty and inflamed skin he is currently having weekly Malaseb baths and steroids to reduce the inflammation, this may need to be continued in his new home. His new family must be committed to continuing potential treatment.
Pablo has been chemically castrated; this runs out in Oct and as such he will be going home on a 'to be neutered' contract which will be undertaken at a vet of our choice with costs covered by the charity. 
Any children in the home must be supervised, as Pablo can be boisterous and has the potential to knock smaller children over.
Children must understand that bulldogs need time to settle in and have space to rest peacefully and uninterrupted.
Additional information:
Pablo is an incredible character, a real diamond in the rough. With just a little patience and training he will make the most amazing family pet and keep you entertained daily.
Pablo's story below,
Pablo is a 1-year-old male who is chemically castrated.
We were alerted to a Facebook post where Pablo was being rehomed.  
His owner was in poor health needing multiple operations,  so for this reason  she felt it was in his best interests to re-home him.
She didn't want him to fall into the wrong hands so asked us to take him. He's a strong boy and she felt we would be best to find him his forever family.
Pablo has some dry skin patches, and his folds are a little red. He will have a full check-up at our vets.
A massive thank you to Claire for meeting Pablo's owner and keeping her in foster in the North West.
When he is ready for his forever home her adoption Poster will be shared, so please keep your eyes peeled for more Pablo updates on our rescue group.
Welcome to your GBSR Family Pablo! We cannot wait to share the next chapter of your life with you
{"slide_to_show":"3","slide_to_scroll":"1","autoplay":"true","autoplay_speed":"3000","speed":"800","arrows":"true","dots":"false","loop":"true","centermode":"false"}