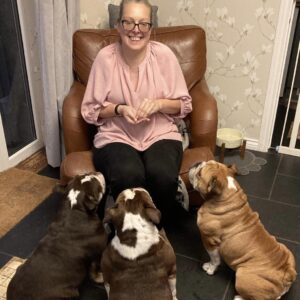 BELLA IS HOME
We just love a failed foster, Bella is home and she always was!
Bella joined Adam and Sarah back in July and has enjoyed many exciting adventures, from zoomies around the garden to happy times on the beach while on holiday with her foster siblings Honey and Yogi.
It was clear that she had fitted in really well so we were absolutely thrilled when Adam and Sarah asked if they could adopt Bella, and of course we said yes!  
So please join me in congratulating Adam, Sarah, Honey and Yogi on their beautiful new girl Bella.
We wish you many years of happiness together.
Previous adoption statement.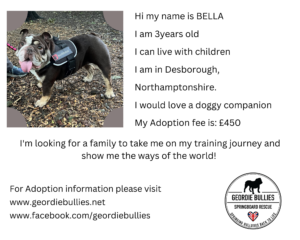 Dogs name: Bella
Age: 3 years old.
Current location: Desborough, Northamptonshire.  
I CAN LIVE WITH
Children: Yes, dog savvy.
Cats: No.
Dogs: Yes
A BIT ABOUT ME
Personality:
Bella's life started off very sheltered, she can become overwhelmed and frightened in new environments, but with gentle reassurance she soon comes round.
She has the most incredible joy and puppy like nature, as her confidence grows, she loves to explore. She loves to be with her humans and is so affectionate and playful.
Behaviour:
Bella is reliving her "puppy phase" and is excitable and playful.
She has learnt some commands and is improving daily.
Bella has done very well living as part of a pack and is learning to play especially with tug toys and the famous "bulldog bitey face".
Needs:
Bella needs a calm preferably bulldog savvy family environment, with a family who understands her excitable nature. And can give her comfort when she is overwhelmed.
A garden is a must for her to run around and play.
Her family must be able to continue her training to reach her full potential.
Any children in the home must be supervised, as Bella is a big girl and has the potential to jump and knock smaller children over.
Children must understand that bulldogs need time to settle in and have space to rest peacefully and uninterrupted.
Walk/exercise:
Bella currently walks twice a day for up to 40min each walk. Her favourite walk is just before bedtime and helps have a nice peaceful night's sleep.
Bella loves a walk; she is very excitable when the harness comes out. Bella likes to be at the front of the pack and does pull strongly, but soon settles. If there are no distractions she is well behaved off of a lead and will come when called but her recall needs improvement with distractions.
Bella loves meeting new people and dogs while out, and can pull in excitement and can stop listening, continued training will improve this.
Toilet trained:
Bella may have an accident's initially; she will need a regular toileting routine as she settles.
Can be left:
Bella settles well in a secure room, with a comfy bed and some toys to keep her occupied. She can be left for up to four hours.
She may have a little anxiety to start with her new environment, but she will soon settle.
Travel:
Bella loves a car ride, because of this we will consider applications of up to four hours away.
Things to be aware of:
Bella came into GBSR with awfully infected ears, she is currently having long lasting ear drops and twice weekly ear cleans, they have continued to improve but may need to continue for a short time period.
She has sensitive skin from untreated mites, but this has cleared, and her fur is slowly growing back, she will need weekly baths to keep on top and prevent her skin becoming dry and itch.
Bella's nails were left to grow so long, she is very good getting them cut, this will need monitoring as her claws grow back nice and healthy.
Additional information:
Bella is a very lovable and cute baby girl who needs some firm training to let her know her boundaries. She makes it very hard to be stern with her because she is so adorable and doesn't understand why she can't do whatever it is she is doing. She will make a great lap warmer and companion for a lucky family who want a part dog part mountain goat hybrid.
A little of Bella's story below,
Bella is a spayed 3-year-old girl that was living with her fur brother Dexter.
Very sadly, due to her owner's ill health, Bella was surrendered to us along with her brother.
Bella was collected by Vicky Walker who had her in temporary foster overnight for us before Adam Bowley and his family collected her and took her home, she is now a Midlands Girl.
Thank you to both Vicky and Adam for stepping up to help us with Bella, we really appreciate it.
Bella had her vet check today and she has had the claw penetrating the underside of her pad cut out and she will need salt baths 3 times a day for 5 days to promote healing. 
She has some broken and split claws which need to be kept an eye on in case the splits travel up to the toes.
Her left ear is so inflamed its almost closed, but the vet managed to squeeze a long-lasting steroid into it to sooth the swelling and she starts her mite treatment in 2 days. So hopefully we will see the soreness in her skin start to calm down.
We want to mention Priory Vets in Stamford for being exceptional today, thank you so much for your help, its very much appreciated.
In herself Bella is a delight with a sunny disposition and is getting on very well. She has made herself at home and is enjoying being part of a pack.
Hopefully it won't be too long before this sweetheart of a girl is ready for adoption once we have healed her, but before that she will be going on holiday with her foster family, lucky girl.
A new life is already opening for you Bella, welcome to your new world sweet girl.
For more updates on all our dogs please join our community group
https://www.facebook.com/groups/1793138384086708/
{"slide_to_show":"3","slide_to_scroll":"1","autoplay":"true","autoplay_speed":"3000","speed":"800","arrows":"true","dots":"false","loop":"true","centermode":"false"}