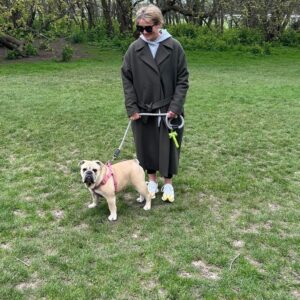 Bella is home!
 A new family needs and a new name, Nell and it suits her perfectly.  
Nell wasted no time wrapping Alison and Russell around her puppy paws and has taken no time exploring her new home.
Nell has gone to live with her new family Alison and her partner Russell, with the promise of tonnes of love and fabulous beach walks.
Our beautiful baby girl came into foster after a very sad hand in. She was cooped up in a flat and not getting the exercise she needed. She was overweight and had a hernia that needed surgery.
Please join us in congratulating Alison and Russell, Nell will be the perfect addition to your family.
To Nell, have the most amazing life sweetheart and we are looking forward to updates about your adventures by the sea.
Father and daughter combo, Russ and Hope, immediately offered to foster Bella, collected her and bought her into their family with Miss Pickles, Bella's new fur sister.
Thank you so much Russ and Hope, you have been amazing, and you have really helped Nell grow and develop into a fabulous, well-adjusted little girl.
A little of Bella's story below,
How to start telling you all about this wonderful little girl?
Bella came into foster after living in a small upstairs flat, that really wasn't suitable for her needs.
Bella has become this bright spark in her foster home, so full of love and cheek that no day has been dull since they took her home.
Bella settles well in her crate in the evenings, and the moment she sees her foster family in the morning she cannot wait to greet them. She loves being included in all things whether that be play time or helping with the laundry.
She is very laid back at home but does love a good zoomie and short play times throughout the day. Any toy is her favourite, and she really enjoys going out for walks and meeting other dogs and of course soaks up as much adoration as she possibly can from anyone she meets.
Bella has loved having another dog in the home keeping her company.
Being so young Miss Bella still has boundaries to learn and is doing very well with training put in place in her foster home. Bella has her tricks and she's not afraid to use them, especially if that means she gets extra loves and cuddles or she makes you laugh.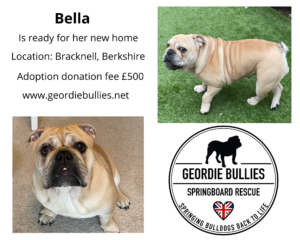 Dogs name:
Bella
Age:
9months. 
Can live with children:
Yes, dog savvy.
Can live with dogs:
Yes, laid back dogs.
Can live with cats: Untested. 
Current location:
Bracknell, Berkshire. 
Things to be aware of:
Bella has undergone cherry eye surgery, hernia repair and been spayed. We wouldn't normally spay so young, but in this case it was necessary.
Bella is a typical young bouncy puppy so any young children in the home must be supervised as she has the potential to knock them over.
All children must understand that she will need her time to rest and nap without interruption and have a space that is just for her to relax.
Poor Bella is frightened of the wind, but with gentle reassurance she will be fine.
The ideal home:
Bella would do amazingly with an active family, one who will include her in everything that is family life.
Long walks and activities that will keep her attention and snuggles when it's time to relax.
Bella would do wonderfully with a laid-back playful dog to keep her company when her humans aren't around.
Bella can be left for 4hours without becoming distressed.
Bella is an incredible young girl and with the right family and continued training her potential is limitless.   
Other comments:
Bella has stolen the hearts of us all here at GBSR. Her cheeky character has kept us entertained with her adorable and mischievous ways. Bella has the most incredible future ahead of her, one we can't wait to watch unfold. 
Follow Bella https://www.facebook.com/geordiebullies/
{"slide_to_show":"3","slide_to_scroll":"1","autoplay":"true","autoplay_speed":"3000","speed":"800","arrows":"true","dots":"false","loop":"true","centermode":"false"}