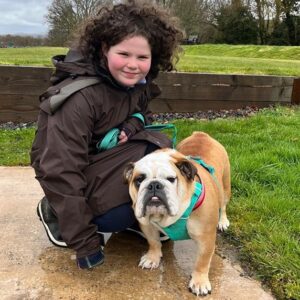 Molly is Home!!
It brings us an incredible amount of happiness to announce Molly finally has the furever home she has always deserved.
Beautiful Molly hasn't had the best life being passed around from pillar to post. She was used for breeding and then cast aside when she was no longer needed.
To see the sadness in a dog like Molly is soul destroying. She has an incredible heart and a desperate need to love her humans. After all she has been through, it is absolute proof of the breeds nature, that she still has the heart and soul of one of the world's best companion breeds.
Molly was rescued by one of our earth angels, a very kind and wonderful lady called Nicola, who rescued Molly from her owner who wanted her pts for bed wetting.
Nicola very kindly collected Molly and travelled her to our foster. Molly came into foster with Victoria Louise and her boy Buster and settled in beautifully.
Molly was collected by her new mum Nikki and her very excited daughter Georgie. Molly has had a very settled and dry first night and has been out for a walk and is slowly getting to know her new fur siblings, Buster the Dachshund and Ock the Viszler a seven-year-old boy.
No more being passed around now gorgeous girl, you are forever home, safe and very much loved.
Thank you, Victoria Louise, for opening your heart and home to Molly and preparing her for her furever home. You have given Molly the best gift ever. Her chance of being forever cherished and we will always be very grateful to you.
So please join us in congratulating Nikki and her family on their gorgeous new girl Molly.
We wish you a lifetime of happiness together and look forward to sharing the next chapter of your life with you.
Be happy Molly and enjoy your fabulous new life with your family and fur siblings.
A little of Molly's story below,
Molly is a 5-year-old, unspayed, ex-breeding bitch.
We were alerted to her plight by a lady called Nicola. Nicola had attended a bulldog walk over the weekend where she met Molly's owner for the first time. He spoke to Nicola about how he was going to put Molly to sleep because she was bedding wetting. However, the shocking part was he had only had her 2 weeks.
Listening to the story about her life this poor girl has been passed around a few times. Starting life as a breeding bitch then being cast aside when she was no longer needed.
She was then given to this person who thought putting her to sleep was the best thing to do, instead of investigating why she was wetting in her bed .
We would like to say a massive thank you to Nicola for liaising with Molly's owner and us to ensure a quick and safe collection of Molly as her owner was becoming angsty.
This was an emergency, and we couldn't have done it without our amazing volunteers in the Southwest. Thank you to everyone who helped us save Molly's life today.
Molly is now in foster with Victoria who very kindly offered to care for Molly. Thank you, Victoria, we are truly grateful for your help with Molly.
Molly or as she is affectionately known in her foster home as Molly Moo is an incredibly affectionate little girl. She will happily spend her days snoozing at your feet, or on your lap if she can get her way!
She prefers a gentle and calm home.
Molly does have separation anxiety, it is manageable with the right support, she is the epitome of companion breed.
Molly isn't playful with toys, and she will shy away from rough play with humans but loves a game of bitey face with the resident male.
Molly gets on well with the foster family's resident male, she is submissive and will happily snuggle in his bed with him.
The moment she sees her harness she is excited as she absolutely loves to go out for a walk, and her confidence with dogs outside the home is growing and playful.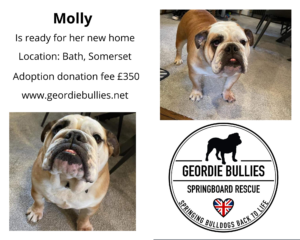 Dogs name:
Molly
Age:
5 years old. 
Can live with children:
Yes, dog savvy.
Can live with dogs:
Yes, laid back calm dogs.
Can live with cats:
Untested. 
Current location:
Bath, Somerset.
Things to be aware of:
While Molly loves to be groomed, she hates her ears cleaned, but with gentle encouragement she will allow you to clean them.
When she came into foster, she went off her food, but as she settled she remembered she's a bulldog a loves food!
Molly doesn't like loud noises or the hoover.
Molly has separation anxiety we can guide you in how to manage and support her. Any children in the home must be dog savvy and young children must be supervised.  
The ideal home:
Molly is suited to a calm home.
She could live with a family with or without children.
She would benefit greatly from a calm dog to help ease her anxieties and keep her company.
Molly needs a home where she isn't left for long periods of time. She bonds well with her humans and needs their companionship. She will happily follow her human to the ends of the earth.
Other comments:
Molly is a beautiful bulldog. She is incredibly affectionate and gentle. She can be as quick as a whippet if she hears the door open, excited to go out and explore the world. She has stolen our hearts and has the most amazing future ahead of her, with the right forever family.
Follow Molly https://www.facebook.com/geordiebullies/
{"slide_to_show":"3","slide_to_scroll":"1","autoplay":"true","autoplay_speed":"3000","speed":"800","arrows":"true","dots":"false","loop":"true","centermode":"false"}