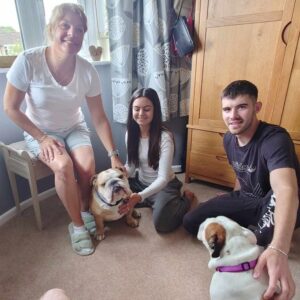 Tyson is home!
Tyson was collected by his new parents, Rachel and Lee, and he has wasted no time getting to know his new surroundings and has been naturally very inquisitive!! He has had his head in everything!
Nothing scares this boy. He has even met Wilson the rabbit from a safe distance and has a new BFF in Maggie, the bulldog.
We have no doubt Tyson will soon have his new family trained in all Tyson.
Welcome to the rest of your life, Mr Tyson
Be a good boy, sweetheart We look forward to seeing lots of updates on all your new adventures.
We want to say a heartfelt thank you to Catherine and Paul for fostering Tyson and preparing him for his forever home. We can't thank you enough for everything you have done for him and well done on your first amazing foster.
Tyson's story below,
Tyson came to GBSR 3.5 years old entire male.
We were contacted via our Facebook page by a lady who needed help with 2 of her bulldogs.
Due to a relationship breakdown she needed to go back to work full time.
You may remember Betty we took in this is the other dog from the home. Tyson is entire and to keep him from being at risk his owner approached us for help.
Catherine collected Tyson from a halfway meeting point and took him home, where he was in foster.
Tyson visited our vet for a health check and was booked in to be neutered.
Unfortunately, this wasn't his only need for a vet visit as poor Tyson was attacked by a Boston Terrier whilst out on a walk. Tyson proved what an amazing boy he is and didn't retaliate towards the other dog. Luckily, he came away with only a small wound on his muzzle.
It became clear in foster that Tyson is very much a family dog, he absolutely loves being included in daily life.
He soon found his partner in crime in his fosters 9year old daughter who he happily followed all day, and he saved his best butt wiggles for when she came home from school.
Tyson thrived in foster, and we couldn't be prouder of him. His is absolutely everything a young bulldog should be. And we cannot wait to see his future unfold!
Tyson's adoption statement.
Tyson is very much a family dog, he absolutely loves being included in daily life.
He soon found his partner in crime in his fosters 9year old daughter who he happily follows all day, and he saves his best butt wiggles for when she comes home from school.
Tyson can be a little mouthy in play, but he is learning to play with toys instead of hands.
He is a typical young bulldog who can be stubborn at times, but he has no problem using his cheeky side to win you over.
He understands sit and stay, but that's about it for commands however he is eager to learn so continued training and he will be able to pick up more.
He has such a sweet and gentle nature and loves being with his humans, getting cuddles, strokes and kisses and never forgets to give you big sloppy kisses back!
He has gotten on very well with the resident bulldog and cat who he will often try to encourage to play with him.
He enjoys a couple gentle walks a day rather than a 1 large walk as he can become breathless if over worked.
And after his walks he loves nothing more than spreading out somewhere cool for a snooze.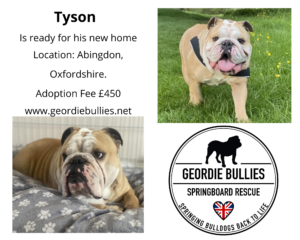 Dogs name: Tyson
Age:  3 years 6 months
Can live with children: Yes, dog savvy children.
Can live with dogs: Yes, laid-back dogs.
Can live with cats: Yes, dog savvy cats. 
Current location: Abingdon, Oxfordshire
Things to be aware of:
He can be nervous when he first meets someone and will take a while to come out of his shell but once he knows you're ok he will be very loving with you.
For some unknown reason Tyson has taken a real dislike to trampolines and mermaid tails.
Tyson can be mouthy in play, no malice in him at all however small children must be supervised to prevent any accidents.
Tyson will need continued training in play teaching him to play with appropriate toys rather than hands, and in basic commands.
He may have a couple accidents in his new environment as he learns his new space.
Sudden loud noises such as motorbikes and lawn mowers can frighten him, he will run away from the noise and bark in its direction.
The ideal home: 
Tyson will benefit from an active family home, one where he isn't left for long periods of time and will be included in all that is daily family life.
A family who will make sure he can enjoy gentle walks and lots of love and playtime.
A family that can continue his training and help him reach his full potential, as the incredible family pet we know he can be.
A calm laid back companion to keep him company when his family can't and teach him the ropes.
Other comments: 
Tyson has shown to be a really charismatic young boy, full of love and life.
Typical bulldog stubborn and not afraid to use his deaf ear.
He has the most incredible potential to be the best family pet.
We have no doubt that he will steal your heart the moment you meet him.
{"slide_to_show":"3","slide_to_scroll":"1","autoplay":"true","autoplay_speed":"3000","speed":"800","arrows":"true","dots":"false","loop":"true","centermode":"false"}