Binks is a loving cheeky and very playful girl. She is interested in everything that goes on in the home and loves to have lots of strokes, cuddles and belly rubs. 
She gets very excited when she sees her harness, but this doesn't always mean she wants to walk!!, she is a typical Bulldog, and she will happily put the brakes on or turn for home after 10 minutes. But she does enjoy going out… just on her timetable..!
She sees dogs while she is on her walks, but she isn't overly interested, she is happy to move on.
Binky loves playing with her toys, she especially enjoys rope & chew toys, and she will happily entertain herself with these.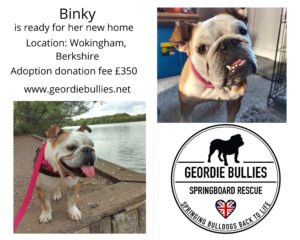 Dogs name: Binky (Binks)
Age:  5 Years 9 months
Can live with children: Yes
Can live with dogs: No
Can live with cats:  Yes
Current location:  Wokingham, Berkshire
Things to be aware of: 
Binks will sometimes get anxious and hump, this is dealt with in her foster home with a firm NO and this behaviour needs to be discouraged if it's displayed in her new home.
She can also get mouthy if over excited through playtime so we would discourage rough play with her.
The ideal home: 
Binks just wants her own slaves who will take her on short walks when she feels like it and who will give her lots of love and attention.
As she isn't a lover of long walks, it would be nice for her to have a secure garden where she can laze her days away with lots of toys.
Because of the humping, any children in the home must be aged 8 years and above and visiting young children supervised.
Other comments: 
If you are looking for an energetic dog to take on long hikes, Binks is not the girl for you.
If you are looking for a gorgeous companion who will sit by your side and make you smile every day, she will be perfect. She loves car journeys so she will be perfect to take out and about… as long as it doesn't involve too much walking..!
Binks does have the odd wee accident but once she gets into a new routine in her new home, we believe this will stop. She is crated over night in her foster home, this has helped her a lot and should be continued.
There are 2 cats in her foster home, and we are happy for Binky to be rehomed with a dog savvy cat.
Binky is a smashing little girl; she will make a lovely family pet. The 'humping' is getting less but she may revert to this behaviour in her new home while she settles so her new family will need to be firm with positive reinforcement.
Binky's adoption donation fee is £350 and will need to be paid in full prior to her going home which will also be subject to a home check.
**The successful applicant will need to have an active Facebook and Messenger account for the life of the dog. If you cannot agree to this, please don't apply**

🚨 PLEASE READ CAREFULLY BEFORE APPLYING 🚨

1. You MUST MEET ALL the dogs' criteria, have you read the adoption criteria in full? 
2. COMPLETE APPLICATION FORM
3. PAY YOUR £5 SUBSCRIPTION – SEE NOTE BELOW**
4. PAYMENT REFERENCE must on the application form to cross reference. Mention if you have paid by Paypal or Bank Transfer if you are unable to provide a Transaction Number so we can check.
5. PAYMENT METHOD Via Enthuse using the link below.
Geordie Bullies Springboard Rescue – donate

Note:
UNLESS WE SEE PROOF YOU HAVE PAID; WE WILL NOT PROCESS YOUR APPLICATION AND YOU WILL NOT BE CONTACTED.

£5 per year allows you to apply for as many dogs as you wish over a 12 month period from your first  application. Please mention if you have paid by Paypal or Bank Transfer on any previous applications so we can cross reference.

Here is the link to the Application Form.
https://www.cognitoforms.com/GeordieBulliesSpringboard1/adoptionapplication