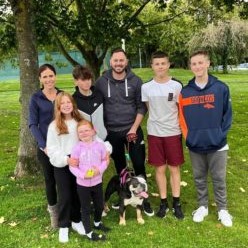 Bleu is home!
We are very pleased to announce that beautiful Bleu has gone home.
She joined Nicky, Anthony and their 5 children. Big Jack, little Jack, Thomas Isla & Layla
Bleu settled quickly and wasted no time investigating her surroundings and making herself at home. She took full advantage of having so many new family members to give her all the extra loves and attention.
Huge congratulations to Nicky, Anthony and their family on their beautiful Princess Bleu, we look forward to seeing your many adventures together.
To Bleu, you are a very lucky girl, we wish you a wonderful happy life with your loving family you and we are looking forward to seeing all of your life adventures together x
A massive thank you to Bleu's foster mum Heather, who has been absolutely fabulous caring for Bleu and preparing her for her furever home We are very grateful to you x
A little of Bleu's story below,
Poor Bleu, she had really been in the wars.
As you know, we are trialling CBD oil for her mild Epilepsy, and she recently had 2 days free. But yesterday she had 2 incidents so today her dosage will be increased. If anyone has used CBD oil for their dogs, you will know it's essential to gradually increase the dosage until we get to a point where it works.
This poor girl was spayed and her wound started weeping blood through the dressing within hours of being home so the following morning she was raced back to the vet there was something very wrong!
That same day, Bleu underwent further surgery and another GA to repair the wound as the tissues under the skin had breached causing a rupture.
Fast forward and her post op check-up was not the news we were expecting
Bleu's abdominal wall was so weak, again her internal organs are breaching so she needs yet another operation, this time using mesh to hold her organs in place. She really hadn't had the easiest of times. But throughout it all she had such a beautiful nature.
Bleu is a shy and nervous young girl who appears to enjoy the company of women more than men as she will often shy away from them, not in an aggressive way. She is loving and playful and enjoys her chew toys (she is a toy destroyer), playing fetch and being chased. The children in her foster home hug her and play with her without any problems, she loves the attention.
She enjoys walking out and can lunge on occasion at other dogs and this will require further training.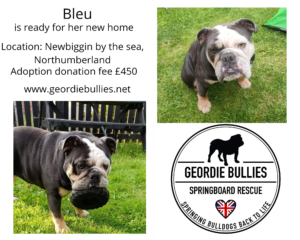 Dogs name: Bleu
Age:  1 year 9 months
Can live with children: Yes
Can live with dogs: No
Can live with cats:  Untested
Current location:  Newbiggin by the sea, Northumberland
Things to be aware of: 
Blue has been diagnosed with a mild form of Epilepsy. Our vet has advised that she doesn't require any medication right now.
The Epilepsy presents in the form of a mild head tremor which can happen at any time.
We are trialling her on CBD oil to see if this will help as its been known to do so and the vet felt it could be beneficial in Bleus case.
However, its too early to say of this treatment is working as Blue has only been on it a week and it take a few weeks to increase the dosage gradually.  
The ideal home: 
Bleu will happily live with a family. She has been around young children in her foster home without issue but obviously any young children will need to be supervised.
As she has a mild form of Epilepsy, ideally, she will be rehomed where there is someone around for a good part of the day.
Other comments: 
Bleu is a lovely little girl who can be shy and nervous so her new family need to give her time to settle but they will be rewarded with a loving family pet who will make a great companion.
She was introduced to a pack of dogs on a walk and allowed to sniff, and she was fine with this but on her lead, she can lunge but not all the time. She would benefit from further training with this.
{"slide_to_show":"3","slide_to_scroll":"1","autoplay":"true","autoplay_speed":"3000","speed":"800","arrows":"true","dots":"false","loop":"true","centermode":"false"}