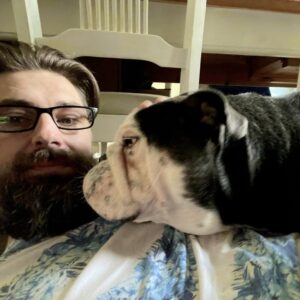 Bleu Special Announcement
There are some announcements that are worth waiting for, and this one is one of those announcements.
Bleu (Bluebell) came into foster at the young age of 1.5 years old with Heather in the northeast back in July 2022 after her owner had a baby, and Bleu very sadly began fighting with the resident female dog.
Our beautiful little girl settled well with Heather and began to flourish in foster, but unfortunately, that wasn't the end of Bleu's worries. Bleu had her routine spay, and very worryingly, her internal stitches ruptured, allowing her internals to push through Bleu had to have two internal repairs and several visits to the vets in the space of four weeks.  
Bleu then found what we thought to be her furever home in January 2023, but again, lady luck wasn't on Bleu's side, and she was returned to us in April after her diet was changed and her medication ceased, resulting in a very unhappy little girl.
This time, Bleu was in foster with our Wayne and his partner in crime "Babs The Pug" in the northwest.
Wayne and Babs took introductions very slowly to not cause Bleu any unnecessary stress and slowly but surely Bleu began to decompress, and her and Babs became the very best of friends and are now a very much bonded pair.
It has taken a lot of hard work, time, and dedication from her amazing foster Dad and fur foster sister to build her confidence in humans and other canines again.
We are super happy to tell you that Bleu is now home, and she always was.
Our beautiful girl will happily live the rest of her days being loved and adored by Wayne and led astray by Babs and we couldn't be happier.
We would like to say thank you to Heather and her family for taking fantastic care of Bleu and starting her on her GBSR journey. Thank you so much, Heather. we will always be forever grateful for all your love and care for Bleu.
So, with no further ado, will you please join us in congratulating Wayne, Babs, and Bleu on finding each other.
We wish you all a very happy furever home that's full of fun and antics!
To Bleu, be a good girl princess and enjoy your new adventures!
No more dodging for you, sweetheart. From now on, you start making lemonade, and we cannot wait to see all the naughty antics you and Babs play on your Dad.
Be furever happy baby girl!
Previous adoption statement below,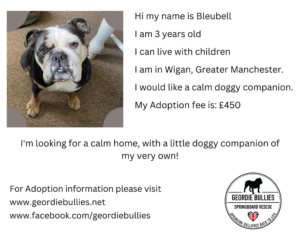 Dogs name: Bleubell
Age: 3 years old.
Current location: Wigan, Greater Manchester.
I CAN LIVE WITH
Children: Yes, older dog savvy children
Cats: No
Dogs: Easy going females.
A BIT ABOUT ME
Personality:
Bleu is a happy and affectionate young girl.
Behaviour:
Bleu can be anxious to start but as soon as she trusts she blooms in front of your eyes.
She has a few fears that will need to be worked on and will run away to hide but with gentle reassurance she comes round.
Needs:
Bleu needs a family willing to give her all the time and patience she may need. She is best suited to a calm laid back family with older dog savvy children.
Walk/exercise:
She can pull at the beginning of her walk, in excitement but calms quickly and walks well alongside the resident dog. She is currently walked once a day for about 30min but could possible walk longer in cooler weather.
Toilet trained:
Yes, Bleu is a very good girl.
Can be left:
Bleu can be left for up to 4 hours, she settles well in her bed in the hall, with resident dog for company.
Travel:
Bleu travels very well; we will consider applications of up to 4hours away from her current location.
Things to be aware of:
Bleu gets on so very well with the foster's resident pug, we have found boisterous dogs cause her anxiety and stress.
Bleu does like her own space when relaxing or sleeping.
Children must understand that bulldogs need time to settle in and have space to rest peacefully and uninterrupted.
Bleu has the occasional idiopathic head tremors very common in the breed the charity will advise her new owners how to deal with them.  
Additional information:
Bleu is an incredible girl; she needs a quiet life where she can be adored by her family. Any family who adopts her will be so truly blessed.
A little of Bleu's story below,
Bleu has found her way back into the arms of GBSR UK.
As you will remember, Bleu was rehomed in October last year but sadly, after her meds were stopped and her diet changed, Bleu's behaviour started to change.
It was clear she was becoming very unhappy, and she was no longer the chilled out, happy wonderful Bleu that we rehomed.
RBU means rescue back up and we provide this for the life of any of our GBSR dogs.
Thank you so much to our fabulous volunteers Sharon and Wayne for road training Bleu.
Beautiful Bleu is now being cared for by her new foster fur sister, Babs the Pug and her new foster dad Wayne in the North West.
Bleu has lived with a dog before, but Wayne is taking introductions slowly to alleviate any further stress for Bleu.
Bleu will be having a vet check in due course. So without any further ado please give this gorgeous young girl, Bleu a very warm welcome back into the folds of her GBSR family.
Poor Bleu, she had really been in the wars.
As you know, we are trialling CBD oil for her mild Epilepsy, and she recently had 2 days free. But yesterday she had 2 incidents so today her dosage will be increased. If anyone has used CBD oil for their dogs, you will know it's essential to gradually increase the dosage until we get to a point where it works.
This poor girl was spayed and her wound started weeping blood through the dressing within hours of being home so the following morning she was raced back to the vet there was something very wrong!
That same day, Bleu underwent further surgery and another GA to repair the wound as the tissues under the skin had breached causing a rupture.
Fast forward and her post op check-up was not the news we were expecting
Bleu's abdominal wall was so weak, again her internal organs are breaching so she needs yet another operation, this time using mesh to hold her organs in place. She really hadn't had the easiest of times. But throughout it all she had such a beautiful nature.
Bleu is a shy and nervous young girl who appears to enjoy the company of women more than men as she will often shy away from them, not in an aggressive way. She is loving and playful and enjoys her chew toys (she is a toy destroyer), playing fetch and being chased. The children in her foster home hug her and play with her without any problems, she loves the attention.
Follow Bleu https://www.facebook.com/geordiebullies/
{"slide_to_show":"3","slide_to_scroll":"1","autoplay":"true","autoplay_speed":"3000","speed":"800","arrows":"true","dots":"false","loop":"true","centermode":"false"}