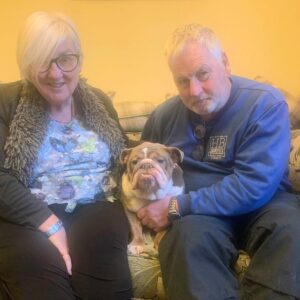 We are very delighted to tell you Beautiful Bobbi has found her happy ever after with Sue, Stephen and forever foster Nikita!
Very sadly Sue and Stephen lost their little girl Bea in June last year and they have been absolutely heartbroken ever since. Despite this Sue and Stephen have very selflessly, continued fostering for us.
Recently they welcomed Bobbi into their hearts and home and much to their amazement having Bobbi has given Nikita a new lease of life.
Sue and Stephen's hearts have ached for a pup of their own again and when Stephen asked if they could be considered to adopt Bobbi we were thrilled and we knew this little dot of a girl would help to heal their broken hearts.
What makes this announcement more special is that Sue didn't have a clue what Stephen had done and the first she heard about it was when she returned home yesterday evening and Stephen surprised her with the news.
So with no further ado please join us in congratulating Sue, Stephen and their family on their gorgeous little girl Bobbi.
To Bobbi congratulations sweetheart, your new life and adventures start now with your best friend Nikita. Be happy and take good care of your sister.
Massive thank you to Karen Toon for caring for Bobbi when she first came into #gbsr We really appreciate all your help!
A little of Bobbi's story below,
Bobbi is a 15-month-old unspayed bitch.
We were contacted by Bobbi's owner to ask us to help keep Bobbi safe and find her a loving forever home. Bobbi's owner unfortunately lost her job a couple of months ago and then found out they needed to move house; they explored all options for Bobbi but they couldn't take her to a new home as they didn't allow pets.
Bobbi will be seeing our vet for a full check-up and to be spayed.
A big thank you to Karon for going to collect Bobbi and fostering her. She is in foster in the northwest.
She has settled well and being a lovely house guest.
When she is ready for her forever home her adoption Poster will be shared, so please keep your eyes peeled for more Bobbi updates.
Welcome to your GBSR Family Bobbi! We cannot wait to share the next chapter of your life with you!
Bobbi will now have a period of assessment prior to us finding her perfect furever home.
So welcome to your GBSR UK journey beautiful girlie, we can't wait to share it with you!
Follow Bobbi https://www.facebook.com/geordiebullies/
{"slide_to_show":"3","slide_to_scroll":"1","autoplay":"true","autoplay_speed":"3000","speed":"800","arrows":"true","dots":"false","loop":"true","centermode":"false"}