Boston – Application's Closed! – North West
Boston soon earned the title of gentle giant, such an incredibly loving boy who just wants to be around you. Boston had a difficult beginning he was left to live outdoors in a stable, he came into foster a shy boy with very little confidence, unsure of being in a home. But soon he has started to bloom in front of our very eyes. He will seek you out for affection and play and is independent enough to be happy chilled by himself. Boston is head shy and will cower if he think's he is in trouble, something that just comes along with not having the best of starts. Boston has taken very well to the resident fur boss Bab's the Pug, she has been instrumental in teaching him that he is allowed in doors.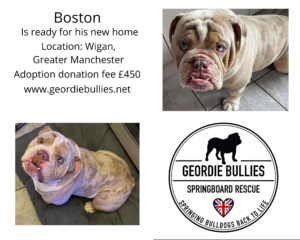 Dogs name: Boston
Age: 2 years old.
Can live with children: Yes, dog savvy children.
Can live with dogs: Yes, laid back dogs.
Can live with cats: Untested. 
Current location: Wigan, Greater Manchester 
Things to be aware of:
Boston had a tail pocket infection when he arrived, and we are unsure of how long this has been an issue it has been treated with antibiotics. With that in mind it may require surgery in the future should it pose a problem. Boston will cower if he is frightened or feel he is in trouble. He is forward on a lead and will pull, but regular walking and some training will help. Boston can get very excited and bouncy when he sees his harness, he will calm down when asked to sit. He will need time and patience as he learns how to live in his new home. Any training his foster has put in place will need to continue. Any young children will need supervising because of Boston's size he has the potential to knock over small children.
The ideal home:
Boston needs an understanding and supportive home. One that understands he didn't have the best start and still has lessons to learn and to build his confidence. One that can put in the time and training to ensure he reaches his full potential. He needs an active family that will include him in daily family life and would benefit greatly from a calm and laid-back dog to keep him company.   
Other comments:
When we were alerted to Boston's plight we jumped into action, and the moment we saw him he stole our hearts. Each day he has grown in confidence, and it is clear he has the potential to be the most incredible bulldog.     
Boston's adoption donation fee is £450 and will need to be paid in full prior to him going home which will also be subject to a home check.
**The successful applicant will need to have an active Facebook and Messenger account for the life of the dog. If you cannot agree to this, please don't apply**
🚨 PLEASE READ CAREFULLY BEFORE APPLYING 🚨
You MUST MEET ALL the dogs' criteria, have you read the adoption criteria in full?
COMPLETE APPLICATION FORM
PAY YOUR £5 SUBSCRIPTION – SEE NOTE BELOW*
PAYMENT REFERENCE must on the application form to cross reference. Mention if you have paid by Paypal or Bank Transfer if you are unable to provide a Transaction Number so we can check.
PAYMENT METHOD Via Enthuse using the link below.
https://geordiebullies.enthuse.com/donate
Note:
UNLESS WE SEE PROOF YOU HAVE PAID; WE WILL NOT PROCESS YOUR APPLICATION AND YOU WILL NOT BE CONTACTED.
£5 per year allows you to apply for as many dogs as you wish over a 12 month period from your first  application. Please mention if you have paid by Paypal or Bank Transfer on any previous applications so we can cross reference.
Below is the link to the Application Form.
https://www.cognitoforms.com/GeordieBulliesSpringboard1/adoptionapplication
Please say a big hello and welcome to Boston 
Boston is a 2.5-year-old entire male.
Boston was living happily with a family for the first year of his life until the couple split up and neither one of them wanted to take him.
Boston was dumped at a family members house who didn't want another dog and left Boston to sleep in a stable, where he has been sleeping for the last 12 months.
Realising that this couldn't continue a gentleman contacted us on behalf of his dad the current owner, to surrender Boston so he can live the life and get the care he needs. Our team leapt into action to bring Boston in as quickly as possible.
At only 2.5 years old this poor boy has no interaction with anyone except to be fed. No one to play with no one to give him any attention or to even walk him. 
He has absolutely nothing to call his own not even a bed.
His face is red, and his skin looks sore from being left out in the cold and damp. He needs some good food and some pampering. He has been a good house guest so far and is enjoying getting to know his foster sister Bab's.
We would like to thank Wayne for acting quickly and going to collect Boston and for fostering in the Northwest.
He will be having a vet visit for a full check-up and to be neutered.
Welcome to our GBSR family Boston, we cannot wait to see your journey and watch you grow!
Keep a look out for Boston's updates and Adoption Poster!
We thank you from the bottom of our hearts for always supporting us!
Follow Boston https://www.facebook.com/geordiebullies/
{"slide_to_show":"3","slide_to_scroll":"1","autoplay":"true","autoplay_speed":"3000","speed":"800","arrows":"true","dots":"false","loop":"true","centermode":"false"}