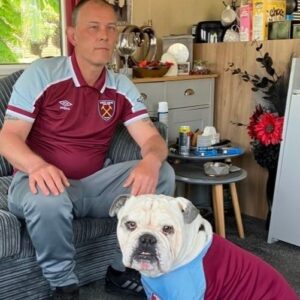 This is the news you have all been patiently waiting for.
At last, his Lordship is Home.
As you all remember, Bronson was a very sad admission.
This boy's previous life was surrounded by drugs and alcohol and when his owner died, he was taken in by a family member.
Sadly, that family member ended up living on the streets with his own drug habit….and Bronson was swapped for drugs.
He was just a dog who was used as a commodity… no loving owner, no home, no toys, no bed, not even a collar and lead.
Bronson settled well in foster but had started showing anxious behaviour and had trust issues after being passed around. We really did not know what else had happened to him, So we put out a 'Foster to Adopt' post, and along came Dawn and her husband Lee.
Within a very short time Bronson had settled and both Dawn and Lee had fallen head Iover heels for their gorgeous boy, but life takes us on a roller coaster sometimes.
Dawn and Lee received some devastating news about Lee's dad, and this meant that Bronson would be left for long periods whilst they travelled back and forth to hospital appointments. So, with a very heavy heart, Dawn asked us to rehome Bronson.
However, this lump had other ideas, and as far as he was concerned, he was home, and with 2 failed rehoming attempts, we have to agree with him.
He has settled in perfectly with Dawn and her family, and it's very clear that our beautiful Bron has now found his way home and we couldn't be more thrilled for him! Beautiful Bronson has gone from Pauper to Prince.
Bronson, your days of being passed around are over, and you now have your furever home you very truly deserve.
Thank you so much to Dawn and her family for opening their hearts and home to Bronson.
Please join us in congratulating Dawn and Lee on their beautiful furever boy.
To Bronson, you have the most wonderful, loving, and joyful life, beautiful boy. We can't wait to see all your new adventures.
Previous adoption statement below,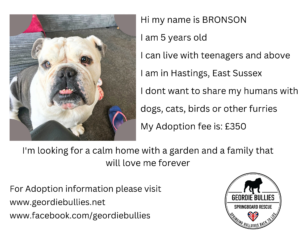 Dogs name:                        Bronson AKA Bron
Age:                                      5 years 2 months
Current location:                Hastings, East Sussex
I CAN LIVE WITH
Children:                             Yes, with teenagers that are dog savvy
Cats:                                     No
Dogs:                                   No
Other furries / birds:          No
A BIT ABOUT BRON:
Personality:
Bron is easy going, well behaved, happy, well-mannered and generally chilled out. He will always run and grab a toy to greet you with when you come home, and throws in a happy dance and a tail wiggle.
He isn't overly needy when it comes to attention, but he will let you know when he wants some loving and enjoys cuddles, tummy rubs & bum scratches.
He is quite playful so needs plenty of toys for his mad ½ hour playtime and he is happy to play on his own or with plenty of chew toys.
Bron can be nervous of new people approaching him in his home so his Foster mum aways advises anyone coming into the home to ignore Bron and once he feels less anxious he will have a quick sniff and then take himself off.
Needs:
Bron is really enjoying being in a calm environment where he has access to his outside space, so we are looking for a similar home for him.
He will happily laze away the days, he isn't high energy, he just needs a safe home that isn't hectic with lots of coming and goings.
If he could lay at your feet all day with a plod out to the garden, this boy would be happy.
Bron hasn't had a stable former life so needs a family that will dote on him and accept him into the home without condition.
Can be left:                         Yes, up to 4 hours
Toilet trained:                     Yes, he will nudge your hand to let you know when he needs to go out
Travel:                                  Anywhere and everywhere, he is a happy traveller
Things to be aware of: 
Bron is great on his lead and fine with dogs that are not in his face when he is out walking so ideally, he needs to be walked in areas where people have control of their dogs or areas that are quiet. And once slow introductions have been made, he will happily walk with another easy going dog. He is walked with a collar, he will wear a harness but he isn't keen in it being put on.
Comments
We are surprised no-one has come forward to adopt Bron, he is a fabulous boy, he is clean, happy, well behaved and no bother.
He is very much loved by his Foster family but sadly they are not in a position to keep him.
Bron is neutered and healthy so please consider adopting this big loveable bulldog.
A little of Bronson's story below,
Bronson is a 4 year old entire male.
Unfortunately, Bronson's life was full of drugs and alcohol. 
His owner passed away 4 weeks ago leaving Bronson in the care of a family member who ended up living on the streets and swapped him for a bag of drugs.
When were alerted to a post on Facebook yesterday as Bronson was being given away for free, we acted quickly and contacted the lady who put the post on.  
Thankfully he was taken in by a lovely family who wanted to help him, but they had 3 cats and Bronson didn't like them so after talking to our rescue coordinator yesterday they let us take him and keep him safe.
Bronson is extremely thin and smelly, his ears are red and sore but despite all this he is a gentleman and has good manners. Imagine being 4 years old and only having a lead and collar to your name.
We would like to say a massive thank you to Matilda's mum Lisa for collecting Bronson at very short notice to keep him safe. Thank you to Jodi for collecting him from Lisa and meeting Leah who will be fostering him in the North East. We have the most amazing supporters and volunteers.
He will be having a vet visit for a full check-up and to be neutered.
He was a good boy for Lisa on his first night and had a bath and some good food. He is now with Leah and has made himself at home and is sleeping the night away. 
We thank you from the bottom of our hearts for always supporting us.
When he is ready for his forever home his Adoption Poster will be shared, so please keep your eyes peeled for more Bronson updates.
Welcome to your GBSR Family Bronson! We cannot wait to share the next chapter of your life with you!
Follow Bronson https://www.facebook.com/geordiebullies/
{"slide_to_show":"3","slide_to_scroll":"1","autoplay":"true","autoplay_speed":"3000","speed":"800","arrows":"true","dots":"false","loop":"true","centermode":"false"}