Bosun is described by his foster family as loveable like a teddy bear. He has an adorable nature with all humans alike and loves nothing more to play.
Bosun wears a harness for walking but needs continued lead training. He is a great fan of weaving around and quite enjoys trying to trip his foster mum up!
Bosun gets extremely excited when he sees other dogs when out and about, so much so that he has a habit of taking off to greet them if he is off the lead.
Bosun is a very clever boy and has already learnt tricks such as sit, paw, stay, kiss and get down. If you want him to 'leave' you need to use your big voice so he will listen.
Bosun loves toys and is not possessive of them at all. He also loves rough play.
Bosun is amazing with children of all ages and likes nothing better that to follow them around wanting to be stroked or played with.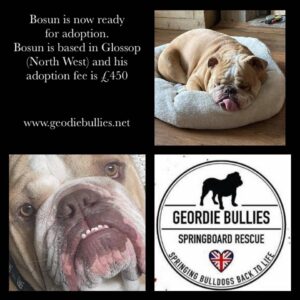 Dogs name: Bosun

Age: 1 year old

Can live with children: Yes

Can live with dogs: Yes (a firm bitch would be best)

Can live with cats: No

Current location: Glossop, North West


Things to be aware of:
Bosun is still a very young dog and requires on going training and firm boundaries from someone who is experienced with the breed.
Bosun is not a great fan of being cleaned but will allow it to be done. He requires his tail pocket and ears cleaning regularly as both have previously been issues but as long as they are kept on top of then they are fine.
Bosun is not a fan of furry felines so a cat is a no no in his furever home.
Bosun can be over excitable with other dogs so he would be best placed with a bitch who can help to teach him manners.
Like many bulldogs Bosun isn't a fan of loud noises and raised voices so awareness must be shown.
Bosun is a needy bulldog and doesn't particularly like being left and can bark due to this. It will need training going forward to help Bosun.

The ideal home:

Bosun is a beautiful boy, who in the right home with the correct training will do well. He does need someone with the time and patience to finish the training his foster mum started.
Bosun is fantastic with children of ages and a family home would suit him best.
Someone at home a large proportion of the day would suit Bosun the best.
Other comments:
Bosun is a young boy who still has a lot to learn. He will require ongoing training and boundaries from someone experienced with the breed.
Bosun is mostly toilet trained but can have odd accidents when left alone or overnight. Bosun doesn't travel that well and for this reason we will consider a new home for him up to 2 hours from her current location in Glossop.
If you have any questions, please ask Rebekah Johnson foster mum to Bosun.
Bosun's adoption fee is £450 and will need to be paid in full prior to going home which will also be subject to a home check.
 PLEASE READ CAREFULLY BEFORE APPLYING 
1. Have you read the adoption criteria in full? You must meet ALL dog's criteria.
2. COMPLETE APPLICATION form and pay your £5 subscription
3. PAYMENT REFERENCE must on the application form to cross reference.
4. PAYMENT METHOD : pay via PayPal 
www.paypal.me/gbspringboard
 or
Bank transfer Sort : 09.01.28 Acc : 92014344.
 UNLESS WE SEE PROOF YOU HAVE PAID; WE CANNOT PROCESS YOUR APPLICATION 
.
£5 per year allows you to apply for as many dogs as you wish should you not be suitable on your first Application.
To apply, please complete the application form below
https://www.cognitoforms.com/GeordieBulliesSpringboard1/adoptionapplication
{"slide_to_show":"3","slide_to_scroll":"1","autoplay":"true","autoplay_speed":"3000","speed":"800","arrows":"true","dots":"false","loop":"true","centermode":"false"}