William is described as his foster family as a natural born comedian! He can make you laugh until you cry. He is also a very vocal boy who gets particularly cross if you take too long delivering his food at feeding times!
William loves to walk and if you should forget he will be more than happy to remind you!
William wears a harness and lead for walking and gets excited when he sees it. He walks well as part of a pack but when he does get tired he will just lay down and requires persuasion to shift.He is a typical stubborn bully and his recall is selective so this will require continued work.
William can sit and wait, though he often doesn't want to. He can give a high five but he often gets over excited and this can become a high 10!
William loves toys and rough play.
William loves humans and adores being nearby such as sitting on your feet or laying touching you.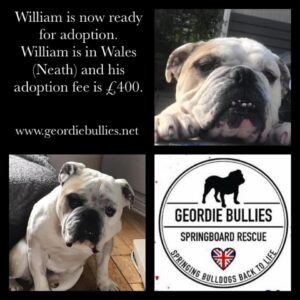 Dogs name: William

Age: 2 years old

Can live with children: Dog savvy children aged 6 plus.

Can live with dogs: Yes

Can live with cats: Untested

Current location: South Wales (Neath)

Things to be aware of:

William can be randomly toy possessive. There appears to be no rhyme or reason to it. He can be very vocal if you go and get the toy off him but he is very food orientated so usually best to distract him. This will need continued awareness and training.

William is very clumsy and requires continued work with his manners. His new family will need to have an awareness of this and willingness to continue his foster family's hard work.

William is not keen on being cleaned and can often turn this into a game of chase. He has had previous ear infections and they need to be kept clean. Williams eyes require drops that are for dry eye and cost a couple of pounds.

He's had rotted teeth removed and his tail as it was tight and causing him issues, neither require any further action.

If left in the home William will require crating or he can chew.

William has lived within a pack of dogs in foster but he needs firm boundaries and a strong pack leader.

The ideal home:

William is just a loveable rogue who loves human contact. He needs a home that is willing to continue to work with him but in return he will be the most loving companion.
William will live happily with or without other dogs.
William would love to have a human who is around a lot of the time but can be left caged if needed.
William can get over excited so with this in mind we are rehoming him with children over 6 as they will have a better understanding of how to keep him calm when he's getting over excited and playful .

Other comments:

William has certainly been quite the character in foster. He has used a crate in foster and this is advisable if he's left.

William is neutered.

William is toilet trained and travels well, we will consider a new home for him up to 4 hours from his current location in Neath.

If you have any questions, please ask Tracy Barrett foster mum to William.

William's adoption fee is £400 and will need to be paid in full prior to going home which will also be subject to a home check.

?? PLEASE READ CAREFULLY BEFORE APPLYING ??

1. Have you read the adoption criteria in full? You must meet ALL dog's criteria.
2. COMPLETE APPLICATION form and pay your £5 subscription
3. PAYMENT REFERENCE must on the application form to cross reference.
4. PAYMENT METHOD : pay via PayPal www.paypal.me/gbspringboard or
Bank transfer Sort : 09.01.28 Acc : 92014344.

?? UNLESS WE SEE PROOF YOU HAVE PAID; WE CANNOT PROCESS YOUR APPLICATION ??.

£5 per year allows you to apply for as many dogs as you wish should you not be suitable on your first Application.
To apply, please complete the application form below

https://www.cognitoforms.com/GeordieBulliesSpringboard1/adoptionapplication
{"slide_to_show":"3","slide_to_scroll":"1","autoplay":"true","autoplay_speed":"3000","speed":"800","arrows":"true","dots":"false","loop":"true","centermode":"false"}