Brody- Ready for Adoption!- Midlands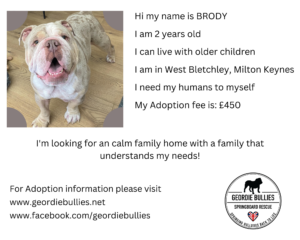 Dogs name: Brody
Age: 2 years old
Current location: West Bletchley, Milton Keynes.
I CAN LIVE WITH
Children: Older children 12+
Cats: No
Dogs: No
A BIT ABOUT ME
Personality:
Brody hasn't had an easy beginning to life, but since being in foster he has continued to grow in confidence. And has learnt the joy of toys and play.
Brody is such an affectionate boy, He loves all human contact, belly rubs, cuddles, kisses and he just melts with a bum scratch.
Behaviour:
Brody loves toys and is very toy possessive.
He is very puppy like and needs ongoing training with a confident owner, He is a typical stubborn bulldog and will benefit greatly from a firm owner who understands bulldogs.
He can get overstimulated easily so needs time out to chill often.
And he's not a fan of a hoover.
Needs:
Brody needs a calm home with older children. He a big and boisterous boy with so much still to learn, so not suitable to a home with young children.
Any older children in the home must be supervised, as Brody is a big boy and has the potential to jump and knock children over.
Children must understand that bulldogs need time to settle in and have space to rest peacefully and uninterrupted. And they must never attempt to take a toy from him.
Walk/exercise:
Brody loves a walk and is great walking on a lead. He isn't one to pull and will walk right by your side.
He is happy to meet new dogs and people, he will have a sniff say hello and carry on his way.
Brody has no recall, so must be walked on leash until he has learnt how to use his bulldog ears.
Toilet trained:
Yes, Brody is a good boy.
Can be left:
Brody is happy when left in his bed with a few toys to keep him occupied. He can be left for up to four hours.
Travel:
Brody travels very well, he likes to sit in the backseat footwell and will curl up and go to sleep. Because of this we will consider applications of up to four hours away from his current location.
Things to be aware of:
Brody came to GBSR severely neglected, in every way possible.
He has food allergies so must stay on his current diet of RC hypoallergenic and he isn't given any treats.
Brody has muscle wastage on his hind legs, from lack of exercise so any exercise must be gentle while he continues to build back his muscle mass.
Grooming him and gaining his trust it still a slow process.
Additional information:
Despite all this boy has been through his beautiful loving nature shines through, and in the right hands he is going to become one hell of a bulldog. We can only take him so far, so now we find the right family that can guide him the rest of the way.
Brody's's adoption donation fee is £450 and will need to be paid in full prior to him going home which will also be subject to a home check.
**The successful applicant will need to have an active Facebook and Messenger account for the life of the dog. If you cannot agree to this, please don't apply**
🚨 PLEASE READ CAREFULLY BEFORE APPLYING 🚨
You MUST MEET ALL the dogs' criteria, have you read the adoption criteria in full?
COMPLETE APPLICATION FORM
PAY YOUR £5 SUBSCRIPTION – SEE NOTE BELOW*
PAYMENT REFERENCE must on the application form to cross reference. Mention if you have paid by Paypal or Bank Transfer if you are unable to provide a Transaction Number so we can check.
PAYMENT METHOD Via Enthuse using the link below.
https://geordiebullies.enthuse.com/donate
Note:
UNLESS WE SEE PROOF, YOU HAVE PAID; WE WILL NOT PROCESS YOUR APPLICATION AND YOU WILL NOT BE CONTACTED.
£5 per year allows you to apply for as many dogs as you wish over a 12-month period from your first application. Please mention if you have paid by PayPal or Bank Transfer on any previous applications so we can cross reference.
Below is the link to the Application Form.
https://www.cognitoforms.com/GeordieBulliesSpringboard1/adoptionapplication
A little of Brody's story below,
We received an urgent message about a young bulldog that was in serious need of help.
We had already made the decision to close our admissions until some of our dogs were rehomed but when we saw the state of this boy, our hearts broke and there was no way we were going to say no.
As soon as we received the message, we contacted our volunteers to see who could collect him as it was a time critical situation, and we literally had a few hours to get him to safety and to secure a foster.
Volunteer Sharon Pallister deserves a huge thank you, she dropped all her plans to get Brody safe for us.
When she collected him, she was horrified and heartbroken that anyone could neglect a dog so badly. She took him immediately to one of the few vets that were still open to get him seen and get medication started straight away.
Brody had Demodex Mange which has gone untreated for a considerable amount of time.
His skin was red raw, he so sore all over with scaley patches.
He had lots of pus oozing from his ears and he was so very thin; the photos don't quite give you the full picture of how bad he was, he could barely walk through weakness in his back end.
Brody was prescribed painkillers, steroids, ear meds, antibiotics and Malaseb baths.
After the vet check, Sharon drove Brody to his temporary foster Debra Wilson.
As you can imagine, this poor lad was exhausted, but he was such a good boy, and he managed a little bit of food before he settled for the night.
Today Debra managed to bath him and start his treatments.
His ears are so sore & he is reluctant for Debra to go near them, but he is a good boy, he knows she is trying to help.
Already the yeasty scabs have been loosened by the Malaseb bath he had today, and he is so much more comfortable.
Welcome to your Springboard family Brody, we are all rooting for you to make a full recovery and to live your best life
For more updates on all our dogs please join our community group
https://www.facebook.com/groups/1793138384086708/
{"slide_to_show":"3","slide_to_scroll":"1","autoplay":"true","autoplay_speed":"3000","speed":"800","arrows":"true","dots":"false","loop":"true","centermode":"false"}