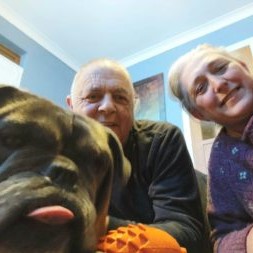 We are very pleased to announce Carter is home!
Carter was collected by his very excited parents Amanda and Steven.
Carter has settled beautifully and has been enjoying sniffing out his new home, playing with all his new toys and enjoying lots of love and snuggles from his new servants.
Please join us in congratulating Amanda and Steven on their gorgeous new boy
We wish you a lifetime of endless fun and happiness together and look forward to sharing the next chapter of your life with you.
Be happy beautiful boy xxx
Thank you to Carter's foster Dad Ian for preparing Carter for his forever home. We know goodbyes are very hard but please take comfort in knowing you have been fantastic caring for our boy. We are so grateful to you for giving Carter the opportunity to enjoy new things such as swimming. Thank you so much.
Carter came into foster with a huge open wound on his paw which resulted in him having a toe amputated. Histology revealed the wound was a tumour and we can confirm the margins are clear from the surgery and he requires no further treatment. 
Carters story is below.
Dogs name: Carter
Age:  4 Years 7 months
Can live with children: Yes, dog savvy children
Can live with dogs: No
Can live with cats:  No
Current location:  South Yorkshire
Can you imagine being born and never being important enough to even be given a name … this boy has spent 4 years unnamed.
Yes, UNNAMED that's how much he has meant to the people in his life!
To start his new journey, he needed a new name, and Carter just fitted him perfectly.
Carter came in late today as an urgent admission. We were contacted by the kennels once his 7-day hold was up.
He was found as a stray and handed in by the dog warden.
He was in poor condition and kennel needed to find him a rescue.
We jumped into action and within hours, Carter found himself in the care of Tracey our wonderful foster and her family.
The only thing he has is memories good or bad we don't know, but we do know those memories include being left with a very sore paw which has festered and become open and badly infected, being half starved and being unwanted. He has lice and fleas as well a skin condition. His tail is bald probably from tearing himself to pieces from the infestation of fleas.
Once we got Carter safely into our care, we got him to the vet. It was found that the wound on his paw was unfortunately cancerous. A Christmas miracle later and after surgery and more tests, our precious boy received the all clear. Only thing left for us to do was get him fit and well and find him his perfect home.
Carter is a lovely boy. He is very cuddly and enjoys human company. Whilst he lives with another dog in the foster home, he can be 'attention possessive' so we have decided he will be better in a new home as an only dog.
Carter loves his toys, and he will happily destroy them and be very pleased with himself.
{"slide_to_show":"2","slide_to_scroll":"1","autoplay":"true","autoplay_speed":"3000","speed":"800","arrows":"true","dots":"false","loop":"true","centermode":"false"}