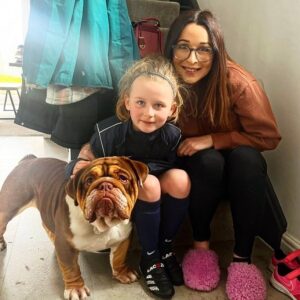 Hector is Home!
We are thrilled to announce our gorgeous chunk Hector, has found his loving forever home with Rebecca and her daughter, Esmie.
As you probably know Hector has a brother Reggie. They were going to be rehomed together but unfortunately the more we observed them in foster the more fights we saw. It's been the most difficult decision to separate them and many sleepless nights but in order to ensure they aren't returned again we felt separating them would be beneficial to them and they would be better friends apart.
Hector was collected by his new family and started exploring hie new environment straight away. He made sure to give a good sniff around the house and garden, and had a burst of the zoomies. He was had an amazing first day, but took him awhile to settle at night, to be expected in a new home and without Reggie.
Hector stole Rebecca and Esmie's hearts the moment they met him, and it look's like they have stolen his too.  
So with no further ado, please join us in congratulating Rebecca and Esmie on their gorgeous new boy. We wish you all a lifetime of endless fun and happiness together.
To Hector Happy forever home darling boy, we look forward to seeing all your future adventures with your family and new BFF Esmie.
A massive thank you to Debra who has been an incredible foster Mum to Hector. You have been a huge part of Hector's journey and we know he has worked his way your heart.
Thank you so much for caring and loving him like your own Debra, we are so grateful for all your help and support.
A little of Hector's story below,
Handsome Hector is an absolute sweetheart.
He is young boy full of character and mischief all in the best of ways. He loves playing with a good toy.
Hector is outgoing and happy to meet new dogs and people anything where he is getting the most attention and affection possible.
He will has no issues making sure to tell you he hasn't received enough affection and cuddles.
He loves a good rough play and is quick to calm down when told to.
Hector is doing extremely well with his training and is very responsive to verbal commands when he wants to be! He really is the ultimate best friend that will love you and be at you side for the rest of his days.
All in all Hector is a well rounded bulldog with the most incredible potential. He is definitely a get out what you put in type of boy!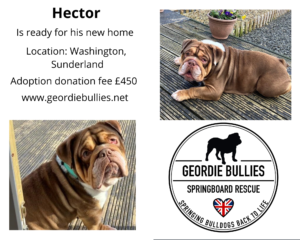 Dogs name:
Hector.
Age:
2 years old.
Can live with children:
Yes, dog savvy.
Can live with dogs:
Yes, calm laid-back females only.
Can live with cats:
Untested.
Current location:
Washington, Sunderland.
Things to be aware of:
Hector loves all attention for anyone willing to give it, but he is a big boy so any children in the home need to be dog savvy, and any young children must be supervised as he has the potential to knock them over.
Hector came into foster with his brother, the boys have had 1 to many scraps so we have decided to separate them.
Hector has had cherry eye surgery, unfortunately had to have his tear gland removed so may need daily eye drops to prevent dry eye.
Hector is prone to interdigital cyst which may need antibiotic treatment occasionally but again we can advice and support you in caring for him.   
The ideal home:
Hector would suit most homes. We would love to see him in an active family home, where he is included in all aspects of family life. Hector would be able to live with a calm female, one who he can grow old with at her side.
Dog savvy children that understand he will need his own space and plenty of naps as well as lots of love, snuggles and strokes.
Hector will thrive in a family that can continue his training to ensure he reaches his full potential. 
Other comments:
To help Hector and Reggie find the best possible homes we have chosen to separate them. It was a hard decision but in this current climate we believe it is what is best for the boys.
Hector is the type of boy who just melts your heart the moment you meet him. It took him no time at all to steal ours, and he has quite the fan club here at GBSR.
He really deserves a 5*home, hopefully that's you.
Hector's adoption donation fee is £450 and will need to be paid in full prior to him going home which will also be subject to a home check.
**The successful applicant will need to have an active Facebook and Messenger account for the life of the dog. If you cannot agree to this, please don't apply**
? PLEASE READ CAREFULLY BEFORE APPLYING ?
You MUST MEET ALL the dogs' criteria, have you read the adoption criteria in full?
COMPLETE APPLICATION FORM
PAY YOUR £5 SUBSCRIPTION – SEE NOTE BELOW.
PAYMENT REFERENCE must on the application form to cross reference. Mention if you have paid by Paypal or Bank Transfer if you are unable to provide a Transaction Number so we can check.
PAYMENT METHOD Via Enthuse using the link below.
https://geordiebullies.enthuse.com/donate
Note:
UNLESS WE SEE PROOF YOU HAVE PAID; WE WILL NOT PROCESS YOUR APPLICATION AND YOU WILL NOT BE CONTACTED.
£5 per year allows you to apply for as many dogs as you wish over a 12 month period from your first  application. Please mention if you have paid by Paypal or Bank Transfer on any previous applications so we can cross reference.
Below is the link to the Application Form.
https://www.cognitoforms.com/GeordieBulliesSpringboard1/adoptionapplication
We have decided to separate the boy's in hopes of finding them the best possible home.
A little our beautiful brothers story below,
Unfortunately, not every GBSR Adoption is a happily ever after.
Our wonderful Hector and Reggie just didn't find their right fit, so have come back into foster with their very own Fairy Foster Mamma Debra and her family.
Welcome home boys where you are loved and adored, and we will work hard to find you perfect fit!!
Keep a look out for our handsome double act they will soon be ready to find the happily ever after they deserve.
Hector & Reggie, our double trouble brothers, are young, fun-loving, typical English bulldogs. The brothers love to be with you and will actively seek you out for affection. They definitely have that butter that wouldn't melt faces, we all know and love. They are both cheeky young boys with bundles of charisma. Both boys love a good toy and can guard on occasion. And they do like rough play but can get carried away. The boys will happily sit to be brushed, any activity that means them being loved and given attention, and they are happy lads. Both boys walk well on leads and will greet other dogs with excitement.
Hector & Reggie came into us due to there owner being at work for long hours and they are craving attention. Unfortunately after a death in the family the boys were not getting the care and attention they needed. Doing what was best for the boys their owner contacted us to see if we could help. Being such young boys their needs weren't being met like they needed.
{"slide_to_show":"3","slide_to_scroll":"1","autoplay":"true","autoplay_speed":"3000","speed":"800","arrows":"true","dots":"false","loop":"true","centermode":"false"}