Clara is a gentle English Bulldog. She is very loving, sometimes shy, and always very sweet. She isn't very playful and doesn't enjoy 'rough play' but does enjoy being with Meika, her adopted fur sister and they will often snuggle up together.
Raised voices scare Clara and she will run away if she feels your tone means she has done something wrong. She can become anxious being left but her foster family are working on this, and she can be left for up to 4 hours in her crate which is her 'safe place'
She has learnt to enjoy antlers but still isn't interested in toys and she enjoys going out for walks and meeting other dogs.
Commands are still a work in progress, but she will now sit and understands to go to bed.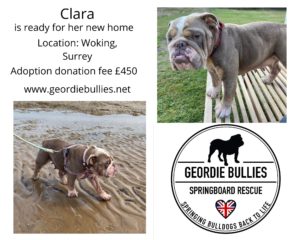 Dogs name: Clara
Age:  3 Years 1 month
Can live with children: Yes
Can live with dogs: Yes, must be sterilised
Can live with cats:  Possibly
Current location:  Woking, Surrey
Things to be aware of: 
Clara has a heart murmur and is having a heart scan with us in October to ascertain the degree of the murmur.
Because of the heart murmur, Clara hasn't been spayed or had her cherry eye glands operated on. We have been advised the murmur is low grade but until the results come back, we can't be certain.
Once we have the results, we can organise the spay and cherry eye operation and this will be undertaken by our preferred vet in The Midlands so Clara's new family must be within a commutable distance of Solihull. The charity will cover the cost of these operations.
 The ideal home: 
Clara will be a delight in any calm home where she will be loved and not left for long periods.
She has grown in confidence living with Meika in her foster home, so ideally, she will have an equally friendly and calm canine companion to help her continue to flourish and gain more confidence.
Clara is very gentle around children but as always, young children should be supervised.
Other comments: 
Clara has had a dreadful start to her life and her body is still recovering from the neglect she has suffered.
She wasn't housetrained when she first came into foster, but she has got the hang of it now. She might still have the odd accident as she doesn't bark to go out yet.
Clara also struggled to eat when she came to us, but her kibble is now softened, and she is fed from a raised bowl, this needs to be continued.
Clara is a sweetheart of a girl, and she has started to shine now. Her new family need to provide a stable and loving environment that isn't too hectic or loud. She needs to carry on learning what life as a dog is meant to be like, not how it has been in the past.
Clara's adoption donation fee is £450 and will need to be paid in full prior to her going home which will also be subject to a home check.
**The successful applicant will need to have an active Facebook and Messenger account for the life of the dog. If you cannot agree to this, please don't apply**
 🚨 PLEASE READ CAREFULLY BEFORE APPLYING 🚨
You MUST MEET ALL the dogs' criteria, have you read the adoption criteria in full?
COMPLETE APPLICATION FORM
PAY YOUR £5 SUBSCRIPTION – SEE NOTE BELOW*
PAYMENT REFERENCE must on the application form to cross reference. Mention if you have paid by Paypal or Bank Transfer if you are unable to provide a Transaction Number so we can check.
PAYMENT METHOD Via Enthuse using the link below.
https://geordiebullies.enthuse.com/donate
Note:
UNLESS WE SEE PROOF YOU HAVE PAID; WE WILL NOT PROCESS YOUR APPLICATION AND YOU WILL NOT BE CONTACTED.
£5 per year allows you to apply for as many dogs as you wish over a 12 month period from your first  application. Please mention if you have paid by Paypal or Bank Transfer on any previous applications so we can cross reference.
Below is the link to the Application Form.
https://www.cognitoforms.com/GeordieBulliesSpringboard1/adoptionapplication
{"slide_to_show":"3","slide_to_scroll":"1","autoplay":"true","autoplay_speed":"3000","speed":"800","arrows":"true","dots":"false","loop":"true","centermode":"false"}