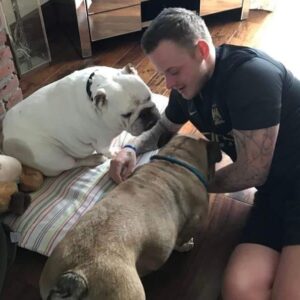 Coco is Home!
We are absolutely thrilled to announce that Coco is now home!
She is now being loved and adored by Marita and her family.
It's been a bit touch and go for a short while as Bertha the resident fur baby wasn't keen on having a new fur sibling. Not wanting to give up that easily Marita and family brought in a dog trainer and much to everyone's delight these two gorgeous girlie's are now sharing the same space without a stair gate insight and no incidents.
We absolutely applaud you all for your perseverance, dedication and love you have given to both girls making sure Bertha and Coco can live in harmony together. There is something so special about people who truly understand the needs and complications that can come along side adoption. And we are all incredibly grateful for everything you have done to make sure that Coco is home with you forever.
So please join us in congratulating Marita and her family and the gorgeous Bertha and Coco.
We wish you a lifetime of love and happiness together and look forward to seeing all your adventures in the next chapter of your lives.
A massive thank you to Coco's foster family, Lavina and David for doing a fantastic job preparing Coco for her forever home. We are forever thankful to you.
A little of Coco's story below,
Coco is a very playful, happy and fun-loving Bulldog. She doesn't realise her size and will steam-roller around the house without any regard for who or what stands in her way. She is bouncy outgoing and lively, and she loves all human contact and being involved in whatever is going on.
She enjoys going out on her walks as she loves playing with other dogs and generally charging around.
Coco, like many Bulldogs, has selective hearing when it comes to recall but she generally understands commands such as sit and paw.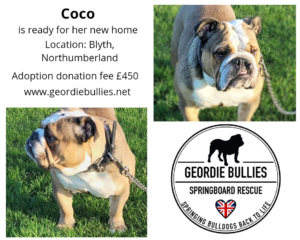 Dogs name: Coco
Age:  2 years and 4 months
Can live with children:  Yes, dog savvy children
Can live with dogs: Yes with a playful friendly dog
Can live with cats:  She will chase
Current location:  Blyth, Northumberland
Things to be aware of: 
Coco was born with a cleft palette and hare lip, but this does not affect her in any way.
The ideal home: 
Coco loves being with other dogs in the home, so it would be fabulous if there was an equally friendly playful dog in her new family for her to bond with.
Children will need to be dog savvy and understand she runs around like a Bull in a China Shop so young children would need to be supervised.
Other comments: 
Coco has been described by her foster mum as a whirlwind who can run for England and seems to think life is one long party. She really has been a pleasure in foster, and anyone would be very lucky to have Coco in their life.
Coco travels well so we will consider the perfect home for her up to 4 hours form her current location in Blyth.
{"slide_to_show":"3","slide_to_scroll":"1","autoplay":"true","autoplay_speed":"3000","speed":"800","arrows":"true","dots":"false","loop":"true","centermode":"false"}