Crystal is a very gentle girl who doesn't like rough and tumble playtime, preferring strokes and closeness with her humans. She can be timid and shy away from loud noises, but she is also very loving, and her cheeky side is just starting to appear.
She likes to go out on walks, but she prefers a short walk, and she is happy to meet and greet other dogs.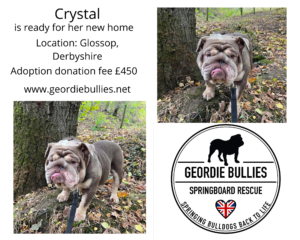 Dogs name: Crystal
Age: 3 Years 9 months
Can live with children: Yes
Can live with dogs: Yes a laid back friendly dog
Can live with cats: Untested
Current location: Glossop, Derbyshire
Things to be aware of:
Crystal was not housetrained when she came into foster and because she was poorly when she first arrived, her training didn't start until recently.
She doesn't have any bedding when she goes to bed as she will pee on it.
She is clean during that day but might take a sneaky pee on the door matt until she settles. She doesn't have a crate, but it would be a good idea for her to have one in her new home just to limit any opportunity to pee if she is left because she might regress for a short period.
Crystal is on various eye drops that are easily available as she has Dry Eye so her eye care regime will need to continue in her new home.
The ideal home:
As Crystal isn't overly active, so a high energy home won't suit her. She is a calm girl who enjoys being around people and children and it would be lovely for her to have a gentle laid back canine companion as well. As mentioned, she isn't a long-distance walker so a couple of short walks a day will be fine for her but she will need access to a garden.
Other comments:
Crystal has a delightful demeanour. She hasn't had the best start in life so it's time for her to have a loving family that will welcome her into their home. And who will understand her previous life was lived in a kennel so her new family needs to have a lot of patience should she regress a little regarding the Peeing.
She is a girl that needs a regular face wash, ears cleaning and her eye drops, and she also gets a bit itchy so she has Piriton.
This special girl needs a little bit more looking after than many dogs but in return you will have a princess of a dog who will make a fabulous companion.
Crystal's adoption donation fee is £450 and will need to be paid in full prior to her going home which will also be subject to a home check.
**The successful applicant will need to have an active Facebook and Messenger account for the life of the dog. If you cannot agree to this, please don't apply**
🚨 PLEASE READ CAREFULLY BEFORE APPLYING 🚨
You MUST MEET ALL the dogs' criteria, have you read the adoption criteria in full?
COMPLETE APPLICATION FORM
PAY YOUR £5 SUBSCRIPTION – SEE NOTE BELOW*
PAYMENT REFERENCE must on the application form to cross reference. Mention if you have paid by Paypal or Bank Transfer if you are unable to provide a Transaction Number so we can check.
PAYMENT METHOD Via Enthuse using the link below.
https://geordiebullies.enthuse.com/donate
Note:
UNLESS WE SEE PROOF YOU HAVE PAID; WE WILL NOT PROCESS YOUR APPLICATION AND YOU WILL NOT BE CONTACTED.
£5 per year allows you to apply for as many dogs as you wish over a 12 month period from your first application. Please mention if you have paid by Paypal or Bank Transfer on any previous applications so we can cross reference.
Below is the link to the Application Form.
https://www.cognitoforms.com/GeordieBulliesSpringboard1/adoptionapplication