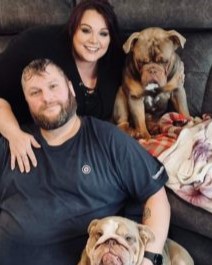 Junior is home.
New start and New name Bertie!
We are very pleased to announce that our wonderful little Bertie has gone home.
Bertie is now living with Jessica, Mark and his new FB Dozer.
Dozer is excited to have a new big brother, and Bertie is settling in to being the big brother, with the occasional grumpy old man in there! And both boys are learning each other's boundaries and how to share their favourite balls.
Bertie has wasted no time getting to know everyone, his 1st night he serenaded everyone with the song of his people and managed to con his new Skin brother to come lay with him. The whole family adore him so much already well who couldn't love him?
So please join us in congratulating Jessica and Mark, we are looking forward to seeing your new adventures with the gorgeous Bertie and his giant little brother Dozer xx
A huge thank you to Emma and family who has done a fabulous job preparing Bertie for his forever home. They have worked wonders with Bertie and to see the change in him has been amazing. Thank you so much x
A little of Junior's story below,
You may remember Junior was a sadly neglected little boy in a very poor state when he came into foster with Emma, Dan and their family. He came into our care with Crystal from a breeder who had no further use of them. Junior was extremely dirty, he smelled so terribly his foster family had to do the 3hour drive home after collecting him with all the windows down. Junior had faeces caught in each of his rolls and his nose rope was full of it. After a good bath, and good food Junior soon settled in with his foster family.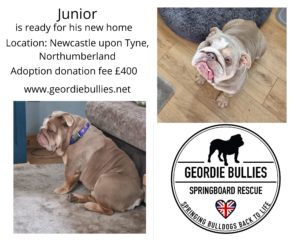 Dogs name: Junior
Age: 4 years 10 months
Can live with children: Yes, with a laid-back dog
Can live with dogs: Yes, dog savvy children
Can live with cats: Untested
Current location: Newcastle upon Tyne, Northumberland
Junior is a happy playful boy. He is very affectionate and will paw for a stroke and cuddles. He has loved being around the children aged from 3 years to 16 years and gets very excited when they come home from school.
Junior loves playing ball and can be a little possessive if the resident Bulldog gets too close.
Like many English Bulldogs, Junior has very little spatial awareness and he is full of energy and will happily play with his ball for hours.
He is a happy walker and will meet and greet dogs when out and loves to play fetch with his ball and displays very good recall.
Things to be aware of:
Junior has a tendency to snatch a toy if you try and take it. This isn't aggressive, more over eagerness to get the toy. And he can jump up when he gets excited, but this is gradually decreasing with positive enforcement in is foster home.
Junior has a wry jaw and needs his food softened slightly before he has it so it's easier to eat.
{"slide_to_show":"3","slide_to_scroll":"1","autoplay":"true","autoplay_speed":"3000","speed":"800","arrows":"true","dots":"false","loop":"true","centermode":"false"}