Flo -Sadly passed the rainbow bridge!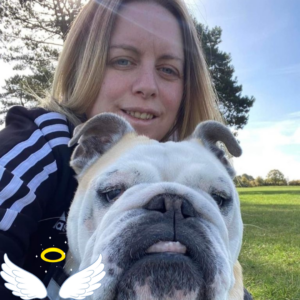 A beautiful tribute to her Forever foster.
I'm absolutely heartbroken to be writing this.
Our Fabulous Flo crossed over the rainbow bridge this morning 3rd Aug 2023.
Sadly, Flo's cancer had spread to her spine, and she was finding it increasingly hard to walk. Her back legs kept giving way, and despite all the pain meds she was on, it was obvious she was still in lots of pain and discomfort.
After discussing with the vet and the charity, it was decided that the kindest thing for Flo was to be put to sleep.
Flo closed her eyes for the last time this morning surrounded by love, cuddles, and kisses.
Flo was our very special girl and myself and my family and I are devastated, and we will miss her terribly.
The house already feels so strange without her.
You came to us a broken shell, and over the past year, we helped you blossom into a truly amazing girl.
We feel blessed to have been chosen to be the family to do that for you.
We all made her a promise to help as many other in need bulldogs as we possibly can so that they can feel as loved as we hopefully made Flo feel.
Rest in peace now our fabulous Flo-Ella.
Love you, now and forever.
Please join us in wishing for broken hearts to heal quickly, Helen and her family are dedicated to fostering as many dogs as they can. To heal and find them their happily ever after's, as they were to giving Flo the forever she deserved.
From our hearts to yours we thank you for everything and all the love you gave our beautiful Flo!
Wonderful news for Flo,
We have decided due to her age and health that Flo is going to live out her time with her foster family who have loved and adored her since the moment they took her home!
Welcome to your forever Miss Flo!!
A little of Flo's story below,
Flo loves life and is very outgoing when she is outside the home. She likes to introduce herself for everyone if it means a kind word and a head stroke.
She is an affectionate girl who isn't interested in toys and even though she sleeps a lot, when she is active, she is active..!!,
She is a loveable cheeky girl who will try and push her luck with her stubbornness, and she decides if it's a walking day or not.
Flo has been fabulous around the 12-year-old twins in her foster home but she will jump up when excited but there is no aggression.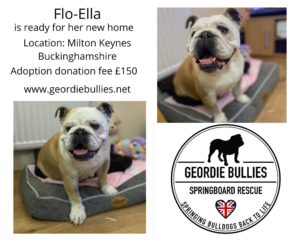 Dogs name: Flo-ella
Age:  10 years
Can live with children: Yes
Can live with dogs: No
Can live with cats:  Untested
Current location:  Milton Keynes, Bucks
Things to be aware of: 
Flo isn't good with other dogs. She will pull on the lead and bark at dogs if she sees them whilst outside and her foster mum usually controls the situation by blocking her line of sight.
Flo has had the cherry eye gland removed from both eyes which has left her with dry eye. Because of this she needs eye drops every day and she is on tablets daily for allergies.
Flo was peeing on her bed overnight when she came into foster. She now has a routine where she is crated and taken out for her last toilet at 10.30pm and then again at 6am which is working very well.
The ideal home: 
Even though Flo is in her twilight years, she is still very much interested in life and loves to be involved in everything that's going on.
We would love Flo to go to a loving home where she will not be left for long periods.
As she jumps up when she gets excited, young children in the home would need to be supervised.
Other comments: 
Flo's foster family have fallen in love with this cheeky loving girl. She has shown such spirit during her cherry eye recovery, its hard not to fall in love with her.
Her new owners must give her the eye drops and allergy meds every day and understand, even though she is active, she is an old girl so if she doesn't want to walk, then she doesn't want to walk.
She has a lot of love to give, and we hope she finds her perfect 'happy ever after'.
Follow Flo https://www.facebook.com/geordiebullies/
{"slide_to_show":"3","slide_to_scroll":"1","autoplay":"true","autoplay_speed":"3000","speed":"800","arrows":"true","dots":"false","loop":"true","centermode":"false"}