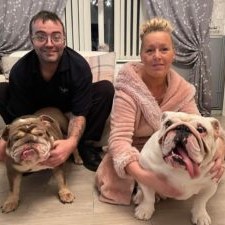 Crystal is home!
We are very pleased to announce that our gorgeous girl Crystal has gone home.
Crystal is now home living her best life with her furever family Moyra, Christopher and her new BF, Bulldog Ghost.
Ghost had expressed an interest in Princess Crystal who has told him that her lady bits are strictly out of bounds, and now they have established the rules they have become the greatest BFF's
Crystal has wasted no time getting to know everyone and had a settled, like she always belonged. The whole family adore her already well who couldn't love her?
So please join us in congratulating Moyra & Christopher and we are looking forward to seeing your new adventures with the gorgeous Crystal and her boyfriend Ghost xx
A huge thank you to Bekki who has done a fabulous job preparing Crystal for her forever home. Thank you so much x
A little of Crystals story below,
Crystal didn't have the best beginnings in life. She was surrendered to us along with Junior by a breeder who had no further use of her. She was in a terrible way, severe haematoma on her ear, as a result of attacks and bites from other dogs in the home. She was dirty, covered in infected bite wounds, both ears had infections, infected tail pocket and infected nose rope the list felt never ending. She was so shut down, like she had given up. Her foster mum had a tough task of showing Crystal just what a loving home was, and was left with the task of teaching Crystal how to live in a home. Bekki made sure that Crystal knew what unconditional love was from the moment she had her in her arms. And thanks to the help of GBSRs amazing support network Crystal received the most amazing gifts and home comforts. Allowing us to focus on her health. And then finding her perfect home.
Crystal is a very gentle girl who doesn't like rough and tumble playtime, preferring strokes and closeness with her humans. She can be timid and shy away from loud noises, but she is also very loving, and her cheeky side is just starting to appear.
She likes to go out on walks, but she prefers a short walk, and she is happy to meet and greet other dogs.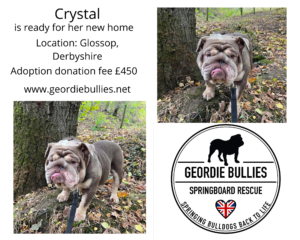 Dogs name: Crystal
Age:  3 Years 9 months
Can live with children: Yes
Can live with dogs: Yes a laid back friendly dog
Can live with cats:  Untested
Current location:  Glossop, Derbyshire
Other comments: 
Crystal has a delightful demeanour. She hasn't had the best start in life so it's time for her to have a loving family that will welcome her into their home. And who will understand her previous life was lived in a kennel so her new family needs to have a lot of patience should she regress a little regarding the Peeing.
She is a girl that needs a regular face wash, ears cleaning and her eye drops, and she also gets a bit itchy so she has Piriton.
This special girl needs a little bit more looking after than many dogs but in return you will have a princess of a dog who will make a fabulous companion.
{"slide_to_show":"3","slide_to_scroll":"1","autoplay":"true","autoplay_speed":"3000","speed":"800","arrows":"true","dots":"false","loop":"true","centermode":"false"}