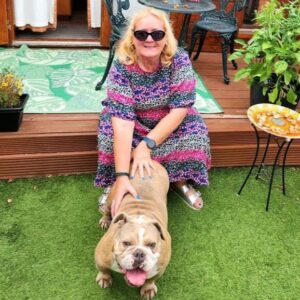 Smudge has gone home!
We are absolutely thrilled to announce that the beautiful Smudge is home.
Smudge was collected by Rachele and Ade.
She had a very settled first night and has been busy taking in her new home. We have no doubt that she will have her new family wrapped around those little paws of hers in no time at all.
Smudge you continue to be the wonderful little girl who stole all our hearts and we know you will get your fairytale happily ever after.
We would like to say a huge thank you to Toni for being a fantastic foster Mummy to smudge.
You have been wonderful, and we can't thank you enough.
So please join me in congratulating Rachele and Ade on their beautiful girl Smudge.
We wish you many years of happiness together.
Smudge's previous adoption statement.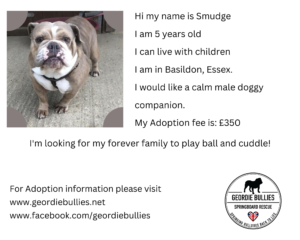 Dogs name:  Smudge
Age:  5 years old.
Current location:  Basildon, Essex.
I CAN LIVE WITH
Children:  Yes, dog savvy children
Cats:  Untested.
Dogs:  Laid-back calm neutered males only.
A BIT ABOUT ME
Personality:
Smudge is the ideal companion dog; she prefers a quieter slower pace lifestyle. She is a calm &
gentle soul who has shown no signs of aggression and loves to be in your company.
Behaviour:
Smudge isn't keen on other female dogs in her space. She is ok with them outside the home if they
leave her be.
Sudden noises of any kind will make her jump and she will seek you out for comfort.
She loves a good play with the boys in her foster home, especially when they pretend to be dogs, and
loves a good baby cuddle!
Needs:
Smudge needs a calm but active family home with a family that will keep her included in all family daily activities; and are happy for her to just be at their side keeping them company.
Any children in the home must be supervised, as Smudge has the potential to jump and knock
smaller children over.
Children must understand that bulldogs need time to settle in and have space to rest peacefully and
uninterrupted.
Walk/exercise:
Smudge walks well alone or with a calm male, she likes to keep to your side, and doesn't pay
attention to the other dog she's walking with.
She can be nervous of sudden loud noises, and lots of children shouting and will cling to your legs for
safety, but with gentle reassurance she is fine.
Toilet trained:
Smudge is fine during the day but may wet her bed at night on occasion.
Can be left:
Smudge can be left for up to four hours in a secure room with a comfy bed.
Travel:
Smudge Travels very well, either on the back seat with a restraint or in the boot in a crate. Because of
this we will consider applications of up to four hours away.
Things to be aware of:
Smudge came into GBSR in season so it is too early for us to have her spayed and as such she will be
going home on a 'to be spayed' contract which will be undertaken at a vet of our choice with costs
covered by the charity.
Smudge needs a toileting routine to begin with as she doesn't indicate that she wants to go outside if
the door is closed.
Additional information:
As mentioned, Smudge is an incredibly loving, chilled out little girl who adores company and walking.
She is very well behaved; she has excellent manners both in and out of the home, and any family
would be blessed with her in their lives. Her toileting overnight might continue in her new home so
any family must understand that this area is a work in progress for Smudge.
Smudge's story below,
We were contacted by a breeder who was being evicted from her home. She begged us to take in 4 of her dogs. We have taken dogs before from her but unfortunately, we couldn't take all 4.
We have managed to find foster homes for 2 of them, but like most rescues at the moment we are absolutely bursting at the seams. And had to say no to the other two that needed dog free homes. Right now, they are like hen's teeth! So, if you're dog free and would like to foster for us please Private message the page.
Smudge seems to be in good condition and has settled well within her foster home with Frankie in the South East. She will be having a full check-up at our vets and spayed.
A massive thank you to Frankie for meeting Smudges owner and transporting her.
When she is ready for her forever home her adoption poster will be shared.
Please keep your eyes peeled for more #Smudge updates on our rescue group.
[meta_gallery_carousel id="10730″ design="design-1″ slide_to_show="3″ show_title="false" dots="false" autoplay="true" show_caption="false" show_description="false" speed="800″