Dottie is a timid, very gentle, loving, and submissive girl. She is learning to play with toys, but she needs chew toys as she is most definitely a chewer. She isn't keen on loud noises, preferring a quieter home.
She really loves to have cuddles and fuss and has enjoyed being in her relaxed foster home with another friendly dog visiting 4 times a week.
Dottie is a very happy 'meeter and greeter' on her walks and she is learning new commands with success, except with the command Wait…!!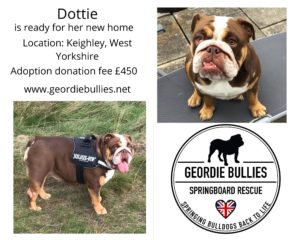 Dogs name: Dottie
Age:  17 months
Can live with children: Yes calm children
Can live with dogs: Yes
Can live with cats:  Possibly – didn't react to a cat in the garden
Current location:  Keighley, West Yorkshire
Things to be aware of: 
Dottie is unspayed and as such she cannot be rehomed with an entire dog. As soon as she is ready for her spay we will make arrangements with her new family and we will cover the cost of the operation.
She also requires a cherry eye operation so this will be done at the same time with our Vet in the Midlands so her new home will need to be commutable to Solihull in the Midlands.
This lovely girl is currently on a weight control diet as she has a little too much junk in the trunk which affects her breathing on exertion. She must remain on this diet until she achieves a healthy weight.
Dottie had learned to be a chewer in her previous home. Crating her makes her anxious so her new family need to understand she needs lots of chew toys and to not be left for long periods.
The ideal home: 
Dottie has thrived in a calm and gentle household and any children around her need to be gentle and not over excitable.
Young children would need to be supervised because she is quite a large girl, and she could knock a small child over.
Dottie would gain confidence from a playful, well-adjusted resident dog who is happy to share their home but they will need to be sterilised.
She needs regular walks to help with her weight and to not be left for long periods.
Other comments: 
Dottie is a sweetheart of a dog. She is starting to blossom in her new home which is a calm environment. Because she is reserved, another friendly dog in the home would really benefit Dottie.
As mentioned, she isn't keen to be left for very long, but she would be less anxious with a canine friend.
Her breathing has been made worse by the weight she is carrying so its essential she remains on the diet and that a healthy weight is maintained.
Dottie isn't the best traveller so the journey to her new home will need to be broken up with pit stops if its over an hour from her current location.
Dottie's adoption donation fee is £450 and will need to be paid in full prior to him going home which will also be subject to a home check.
**The successful applicant will need to have an active Facebook and Messenger account for the life of the dog. If you cannot agree to this, please don't apply**
🚨 PLEASE READ CAREFULLY BEFORE APPLYING 🚨


You MUST MEET ALL the dogs' criteria, have you read the adoption criteria in full?
COMPLETE APPLICATION FORM
PAY YOUR £5 SUBSCRIPTION – SEE NOTE BELOW*
PAYMENT REFERENCE must on the application form to cross reference. Mention if you have paid by Paypal or Bank Transfer if you are unable to provide a Transaction Number so we can check.
PAYMENT METHOD Via Enthuse using the link below.
https://geordiebullies.enthuse.com/donate
Note:
UNLESS WE SEE PROOF YOU HAVE PAID; WE WILL NOT PROCESS YOUR APPLICATION AND YOU WILL NOT BE CONTACTED.

£5 per year allows you to apply for as many dogs as you wish over a 12 month period from your first  application. Please mention if you have paid by Paypal or Bank Transfer on any previous applications so we can cross reference. Below is the link to the Application Form.

https://www.cognitoforms.com/GeordieBulliesSpringboard1/adoptionapplication
{"slide_to_show":"3","slide_to_scroll":"1","autoplay":"true","autoplay_speed":"3000","speed":"800","arrows":"true","dots":"false","loop":"true","centermode":"false"}