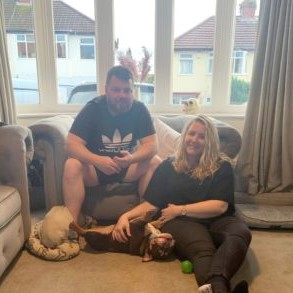 Edna is home
We are absolutely delighted to bring you news that Edna has found her forever home with Gemma, Dan and their children Noah and Libby.
Edna was collected by her new family and has been getting lots of lubs and cuddles from her them all. Edna has gained a new BFF in Reggie.
Reggie has tried to show Edna whose boss, but she's having none of it. We are sure it won't be long before they are partners in crime and playing fetch with together.
Many congratulations to Gemma, Dan and their family. We hope you have lots of fun with this gorgeous girl.
To Edna have a fabulous life with your new family and please don't be bossing Reggie about too much Be happy sweetheart x
We want to say a huge thank you to Wayne who has done yet another fabulous job preparing Edna for her new home, we are extremely grateful to you, thank you so much for the incredible work with Edna.
A little of Edna's story below,
Edna it a typical English Bulldog puppy. She is clumsy, boisterous, playful (loves her tennis ball and tug toys), stubborn and with a perfectly executed deaf ear!!
She is loving and she really adores all human contact. She came into foster with a habit of clinging onto legs when she wants attention. This has been discouraged but will need reinforcement in her new home.
Edna shares her foster home with Babs the Pug. They often share a bed but have had spats over toys as Edna is super playful and isn't too keen on sharing.
Edna loves going on walks, fine with other dogs and is a happy traveller in the car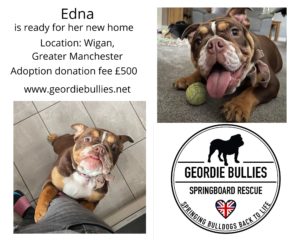 Dogs name: Edna
Age:  7 months
Can live with children: Yes
Can live with dogs: Yes – Must be sterilised
Can live with cats:  Untested
Current location:  Wigan, Greater Manchester
 The charity will pay for the spay and this will be done at a vet of our choosing.
Because Edna isn't spayed, she can only be rehomed with a sterilised dog if there is a resident dog present in the home.
The ideal home: 
Edna is still a puppy and as such she needs a home that understands the needs of a puppy with respect to giving boundaries and learning acceptable behaviour.
Because she still clings onto legs when she wants attention, we feel children aged 6 years and above would be most suitable in the home and obviously young children need to be supervised.
It would be lovely for Edna to have a well-behaved canine companion to learn from who is equally as playful as she is, but they would need to be laid back to some degree and be happy to share toys.
{"slide_to_show":"3","slide_to_scroll":"1","autoplay":"true","autoplay_speed":"3000","speed":"800","arrows":"true","dots":"false","loop":"true","centermode":"false"}