Hank is an adorable little boy who is very well behaved and loves the company of his foster family. He adores going for walks and being involved in everything. He doesn't pull on his lead and knows how to understand commands, his recall is good unless there is another dog that needs to be investigated..!
He is very sociable with other dogs and also very submissive so any dog in the home must also be gentle and friendly with other dogs.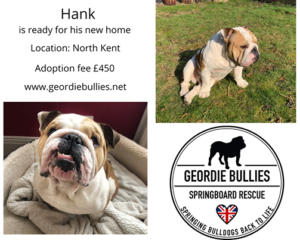 Dogs name:  Hank
 Age:  2 years 8 months
Can live with children:  Yes
Can live with dogs:  Yes – must be a very friendly laid-back female dog
Can live with cats:  Untested
Current location:  Beckenham, Kent
Things to be aware of: 
Hank needs to be castrated and have his cherry eye seen to. This is booked for the beginning of April and will be done before he goes home unless he has been rehomed before then. In which case we would ask the new owners to take him for his operations and we will cover the cost.
Also, Hank has suffered with skin allergies in the past, so it is essential that he is kept on the same food he is presently on. This is Burns kibble and its readily available at pet stores.
The ideal home: 
Hank loves walks and being involved so we are looking for a family that is active and who will take him out and about. Hank will happily live as a single dog and although he hasn't lived with children in foster, we feel any children in the home would need to be gentle around him as he is submissive and be dog savvy.
 Other comments: 
Hank is an absolute poppet of a boy. He came into rescue after being bullied by another dog in the home so we will only rehome Hank in a home with another dog if that dog is friendly and submissive like he is.
He is playful and engaging and will be a super pet for any family that wants to include a dog into their lives.
Hank is toilet trained and he loves travelling. We will consider homes up to 4 hours from Hanks location but if he is rehomed before he has had his operations, he will need to come back to the vet he is booked in with. Please consider this before you apply.
If you have any questions, please ask Tina Conlon foster mum to Hank
Hanks adoption fee is £450 and will need to be paid in full prior to him going home which will also be subject to a home check.
?? PLEASE READ CAREFULLY BEFORE APPLYING ??

1. Have you read the adoption criteria in full?  You must meet ALL dog's criteria.
2. COMPLETE APPLICATION form and pay your £5 subscription
3. PAYMENT REFERENCE must on the application form to cross reference.
4. PAYMENT METHOD : pay via PayPal www.paypal.me/gbspringboard or
Bank transfer Sort : 09.01.28 Acc : 92014344.

?? UNLESS WE SEE PROOF YOU HAVE PAID; WE CANNOT PROCESS YOUR APPLICATION ??.

£5 per year allows you to apply for as many dogs as you wish should you not be suitable on your first Application.
To apply, please complete the application form below

https://www.cognitoforms.com/GeordieBulliesSpringboard1/adoptionapplication