Ruby is described by her foster family as a lovely, playful girl who thrives on attention from humans. She also adores other dogs and over time is coming out of her shell and becoming more playful.
Ruby walks well on a harness or collar and lead and is fantastic both on and off the lead. She stays close to the person walking her and never strays far. She walks well in a pack or on her own, she just loves walking.
Ruby is a clever little lady and can sit and give a paw. Ruby does have some issues with her hearing and her foster family have been using hand signals to aid her training.
Ruby loves toys especially balls! She can however be possessive so care must be taken.
Ruby has taken a little while to come out of her shell but not she has she loves nothing more than a game of bitey face with a furry pal or playtime with humans!
Ruby foster mummy finds it easiest to pop her collar on and sit with her to clean her folds everyday.
Dogs name: Ruby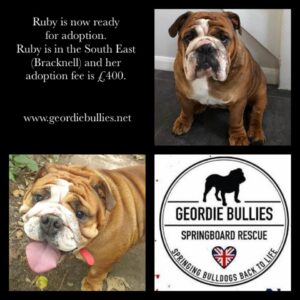 Age: 1
Can live with children: Yes, Dog savvy children.
Can live with dogs: Yes – needs a friend
Can live with cats: No
Current location: South East (Berkshire)
Things to be aware of:
Ruby appears to have issues with her hearing and we are sure why and neither are the vets. You need to bear this in mind if you are speaking to her and ensure you are face on to her.
Ruby can become anxious around noise and can sometimes 'charge' at people, children or dogs. She doesn't mean this aggressively but it is something that you must be aware of.
Ruby can be possessive over balls in particular so awareness must be taken when she's playing with them.
Ruby does have some weight to lose and therefore she is on a strict diet. This must be continued by her owners to ensure she becomes fit and healthy. She does sulk when you take her bowl away when she's finished meals!
Ruby can also become hot very easily due to her weight, something that will need caution in hotter weather and on walks.
Ruby is not good with cats at all and has terrorised the most dog savvy cat in foster.
The ideal home:
Ruby is just the most beautiful, squishy girl who will bring so much joy to her new family. She will need time and patience to settle and an understanding that she will need continued training.
Ruby is a big girl and can get over excited and clumsy, so with this in mind we are rehoming her with dog savvy children. They will have to have an understanding of how to manage her with her hearing issues.
Ruby has lived with dogs in foster and will need furry friends in her forever home to keep her company and to enjoy play with.
Other comments:
Ruby has been a pleasure in foster. She doesn't use a crate at all as is fearful of them. She gets anxious when left alone so cannot be left for long periods of time.
Ruby is spayed.
Ruby is toilet trained and travels well, we will consider a new home for her up to 4 hours from her current location in Bracknell (South East).
If you have any questions, please ask Tara Stepney foster mum to Ruby.
Ruby's adoption fee is £400 and will need to be paid in full prior to going home which will also be subject to a home check.
?? PLEASE READ CAREFULLY BEFORE APPLYING ??
1. Have you read the adoption criteria in full? You must meet ALL dog's criteria.
2. COMPLETE APPLICATION form and pay your £5 subscription
3. PAYMENT REFERENCE must on the application form to cross reference.
4. PAYMENT METHOD : pay via PayPal www.paypal.me/gbspringboard or
Bank transfer Sort : 09.01.28 Acc : 92014344.
?? UNLESS WE SEE PROOF YOU HAVE PAID; WE CANNOT PROCESS YOUR APPLICATION ??.
£5 per year allows you to apply for as many dogs as you wish should you not be suitable on your first Application.
To apply, please complete the application form below
https://www.cognitoforms.com/GeordieBul…/adoptionapplication