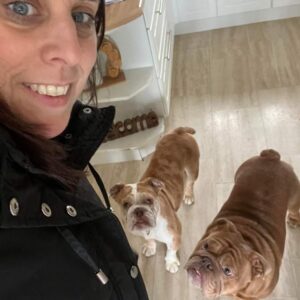 Evie is Home!
We are absolutely thrilled to announce that little Miss Evie has gone home and she is now busy training her new servants Stephen and Tracey. Evie has a new brother, fellow GBSR dog Harry the Humpster and we are sure it won't be long before these two are BFF. Evie hasn't wasted any time wrapping them all round her paws and keeping them on their toes.
So without further ado please join us in congratulating Tracey, Stephen and Harry on their gorgeous addition. Huge congratulations to you all, we wish you many years of happiness and joy together!
So Little Miss Evie now your forever adventures begin, have a wonderful life in your new home sweetheart and we look forward to seeing all your adventures unfold.
Massive thank you to our lovely fosters Emma, Dan and of course Ava for caring and preparing Evie for her forever home. You have been fabulous, and we are very grateful for all your help.
A little of Evie's story below,
We were contacted by a shelter about Evie, she was at the end of her 7day hold for us to take her and find her forever home. She had been abandoned to the streets before Christmas, we knew she needed us.
We had no idea on her condition, no name, massively underweight, filthy and is an understatement. She was so frightened, withdrawn and timid. Her first morning in foster started off rough as poor Evie had terrible diarrhoea. We put it down to so much change and stress. But unfortunately not, after worming, change in foods in case of allergies she still woke up every morning covered in her own waste. 3weeks of trying everything we could, our vet decided we needed to do more samples, our poor Evie had the most horrific giardia infestation. The first worming hadn't of been enough to help her. But now we had answers.
Within 48 hours Evie was a different dog, she was energetic, even more affectionate, naughty in the best of ways. She finally was well enough to show us who she was. She stole the hearts of us all.   
Evie is an excitable, and very affectionate little girl. She enjoys long snoozes to charge up her batteries ready for zoomies and playtime when the children come home from school.
She adores being fussed by every member of her foster family and loves any attention she receives from members of the public when out and about.
She loves a good toy to throw around and chase.
Evie is an inquisitive little girl and likes greeting other dogs while she is out for her walks. She was in foster with two, rough and tumble bulldogs and she had them eating out of her paws in no time at all.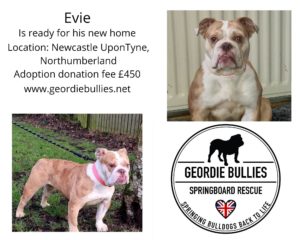 Dogs name: Evie
Age: 3years 
Can live with children: Yes, dog savvy.
Can live with dogs: Yes, laid back neutered male.
Can live with cats:  Untested.
Current location: Newcastle Upon Tyne, Northumberland. 
Things to be aware of: 
Evie came into our care from a shelter, with no information about her. She was poorly and underweight with a severe Giardia infestation, which has impacted on her food issues as she wasn't getting any of the nutrition she needed.
She eats every meal as if it is her last, and will take food from the children, out of bins and off tables. Whenever food is involved, Evie goes into her crate whether that be hers or the family's mealtimes. And the children are not allowed to give her any food or treats. So, Evie understands that her meals come from adults.
It is clear she has had a caesarean section, but unclear if she has been spayed, due to this we will liaise with her new owners to arrange her spay and the charity will cover the costs at a vet of our choosing. Because of this Evie cannot be rehomed with any entire dogs.
Evie is doing well learning how to live in a home environment but is used to going to the bathroom wherever she pleases, so she is back to basics on training, and she is making progress.
Evie has separation anxiety and does not like being left alone and will bark and cry. Again, we use the crate as a security tool for her. We recommend all training be carried on in her new home.
Evie does mouth when playing and will pull at your hand if she wants affection, no malice and is extremely gentle even if she does have a nibble. Any young children must be supervised.
The ideal home: 
Evie needs a bulldog savvy home, to continue with her training. An active family, one which she will not be left for long periods of the day and will be included in all parts of family life.
A calm laid back play mate would benefit her greatly and will help with the separation anxiety.
Any children will need to be dog savvy and any young children in the home, will need to be supervised with anything food related.
Evie is a wonderfully gentle soul and while she doesn't snap or have any food aggression, she may take food from any little ones. Whoever is lucky enough to be chosen as Evie's forever family must understand that they will need to be patient with her, it may take her a little time to settle and feel safe
.Other comments: 
Evie's beginnings may not have been the best, but we are dedicated to making sure her future certainly is. She has the potential to be an amazing bulldog, and the right forever home will do that for her. Evie continues to try so hard learning in her foster environment but is now ready to start her next chapter.
{"slide_to_show":"3","slide_to_scroll":"1","autoplay":"true","autoplay_speed":"3000","speed":"800","arrows":"true","dots":"false","loop":"true","centermode":"false"}